This post may contain affiliate links. Read my disclosure policy here.
It is time to put the finishing touches on your Halloween costumes, stock up on miniature candy bars, and spook up your Facebook profile pic…
For the last few years my son my has been a zombie for Halloween. It really is the simplest, cheapest costume for a tween boy. And while I have tried my best to make him look as "undead" as possible before he heads out trick or treating with his best friend, I must say, it was far easier to give him the zombie treatment at PicMonkey.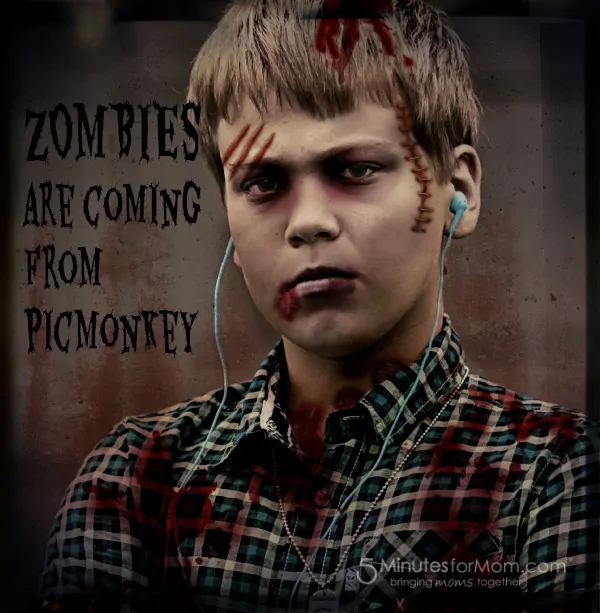 I actually think he looks so frightening I am almost afraid to show him. I was a bit squeamish "building" my little piece of zombie art. Nonetheless, I am going to print him a copy, cause I think his buddies at school will think it is pretty cool. I just hope I don't give him nightmares!
Have you ever "decorated" your social media profiles with some Halloween gore? At the online photo editing website PicMonkey, it is super fast and easy to transform yourself into a vampire, witch, zombie, or more.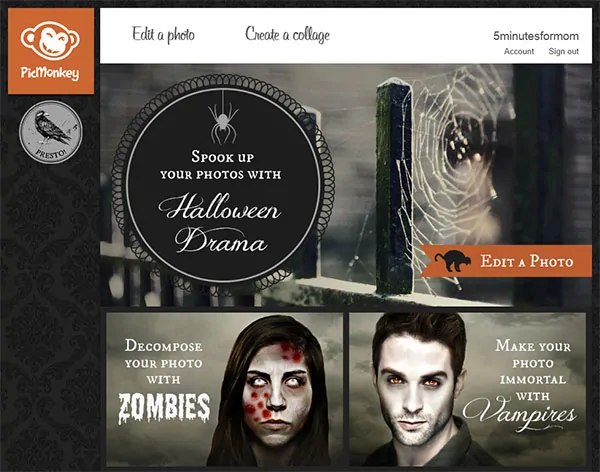 Now I just need to vampire myself for my Facebook page…
For more PicMonkey photo editing resources, and to help you share your own PicMonkey tips and tutorials, we've created a PicMonkey Resource Page full of free tutorials, tips and tricks, as well as a LINKY for you to link up your own PicMonkey posts.
Written by Janice Croze, co-owner of 5 Minutes for Mom and owner of Janice Croze Photography
Please Note: PicMonkey is one of our sponsors here at 5 Minutes for Mom. We love PicMonkey and we are so grateful for their support and their appreciation of the mom blogging community. As always, our opinions are 100% our own.