This post may contain affiliate links. Read my disclosure policy here.
Krissy of B-Inspired Mama, 5 Minutes for Mom contributor, is here to share her insights into Evernote and Post-it Products. While we were compensated to write this post, our writer's views and opinions remain her own.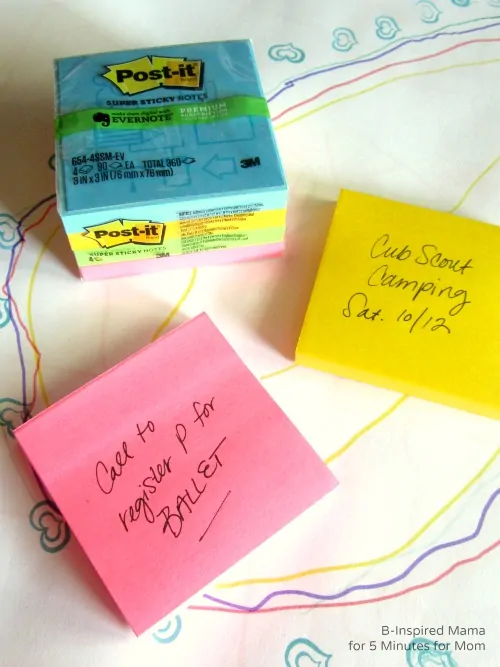 Did you hear the news that I shared last week about the collaboration between Evernote and Post-it Products?  If you missed it, here's a quick recap: Evernote has updated the camera in their clever digital note-taking app to allow you to photograph, digitize, and organize your classic paper Post-it Notes.  Awesome, right?  My favorite part: the Evernote app can categorize those paper-turned-digital Post-it Notes based on COLOR.  I know – AMAZING!  And  since this is by far my favorite part of the Evernote and Post-it Brand collaboration, I thought I'd share some family organization tips using that cool feature…
 3 Ways to Stay Organized with Colorful Evernote Post-It Notes
Assign Each Color to a Different Category.
Use the different colored Post-it Notes for different things that you need to keep organized for your family.  For example: Jot all of your doctor's appointments on pink Post-it Notes.  And all of your school notes and activities on blue.  In your Evernote app, assign those colors to those specific categories.  Then when you photograph them with the Evernote camera, those notes will automatically go right in their appropriate folder.  Voila!
Assign Each Color to a Different Family Member.
Make a folder for each family member in Evernote.  Then assign each folder (and therefore family member) a certain Post-it Note color.  When the doctor calls to reschedule an appointment for your son, grab his assigned color note to jot it down.  Then when you photograph it with the Evernote camera, it'll go straight to your son's folder.  Very cool!
Set Reminders for Your Post-it Notes.
After you snap a photo of your Post-it Note, set a reminder for the date that you need to remember.  Then you can have Evernote message or email you that reminder.  Never had a Post-it Note remind you before, huh?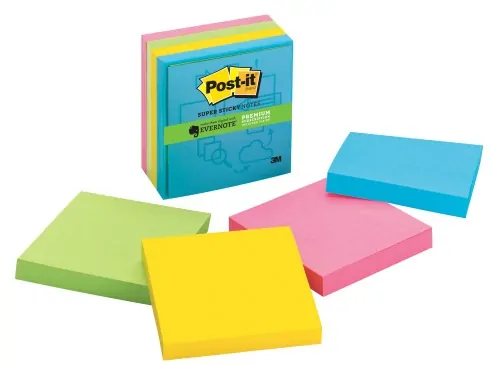 Have you tried the new Evernote Post-it Products yet?  What are your organization tips using them?  If you haven't tried them yet, make sure to head to a retailer to grab some and give it a try.  Each package of Post-it Notes comes with a one month free Premium Subscription of Evernote.  You can get yours and learn more about Post-it Brand and Evernote by visiting your local office supply store or by visiting Postit.com/Evernote following Post-it Brand on Twitter (@postitproducts) or on Facebook.
Krissy is a former art teacher turned full time mama of 3. She blogs at B-InspiredMama.com to connect moms with kids crafts, easy recipes, learning fun, and creative parenting tips.