This post may contain affiliate links. Read my disclosure policy here.
We were compensated for our time in bringing you this information from React Mobile, but as always, our writer's opinions are her own.
My daughter will be driving soon. Now that's a next step in loosening the apron strings! In fact, she's been taking driver's ed about a half mile from our house, and so she's been riding her bike there. I'm certainly fine having her out of my sight — she's a busy teenager after all — and I have already learned not to worry too much when she's riding with other teen drivers.
But knowing that she's arrived safe and sound whether she's walking, biking, or driving, definitely helps me worry less.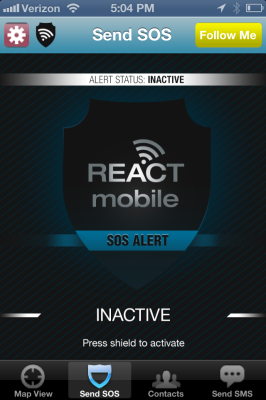 The React Mobile Safety App is available at itunes and Google play store. It's completely free. Even features which used to be premium fee-based are now available to all users.
How does it work?
This video does such a great job of showing the app to you, I had to include it here. Take two minutes to watch it:
ReactMobileReshoot from Robb on Vimeo.
With the touch of the S.O.S. button, your location (via GPS) is sent out as a text and email for those who you've pre-selected to receive these notifications. Once you send that message, Mobile Alert gives you a pop up "Call 9-1-1" for a quick way to alert authorities if that is warranted in your situation.
The Follow Me feature can be used to give you peace of mind. The example given in the video below is of a college girl, and I think that's a perfect situation to encourage people to use it. If you are walking across campus alone, you can alert your specified people that you are on the move, and they can check in real-time to see when you've arrived.
React Mobile Personal Safety App from Robb on Vimeo.
Once my daughter gets a smartphone, I will definitely have her use this app. If I had a daughter in college, I'd encourage her to use it, at least to let her friends know what was going on, and I've downloaded it to my phone as well.
What about you? Would the React Mobile Safety app give you peace of mind?