This post may contain affiliate links. Read my disclosure policy here.
Well, it's that time again. This week we are closing the Soothe and Nurture With beginning giveaway.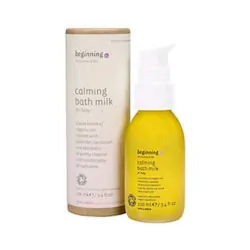 I bathed my three children in the calming bath milk for baby. "A pure blend of organic oils, infused with Lavender, Geranium and Mandarin." I loved the hint of lavender and orange together. It was definitely very calming.
I also used the soothing delicate soap to wash their little bodies. The gentle soap "with the moisturizing properties of Jojoba, soothing quality of Aloe and the calming aroma of Lavender," left their skin feeling so very soft. Goodbye dry skin. As I toweled my five-year-old daughter off, she even commented on how soft her skin was.
I am also impressed that their products are dermatologically tested on sensitive skin and that they do not use synthetic perfumes, artificial colors, petroleum derivatives, Sodium Lauryl Sulphate, Parabens, TEA, DEA or animal ingredients. MACLAREN is also against animal testing.
MACLAREN has their slogan right, "What a mother wants, what a baby needs…"
Comment Number 61 – kristi blackstone, will receive the MACLAREN beginning gift pack!

Comment Number 2 – Carrie, will receive the MACLAREN beginning Travel Kit for Baby!

Congratulations! You should have received an email about claiming your prize.

If you haven't received an email, please send your FULL NAME, SHIPPING ADDRESS, and TELEPHONE NUMBER to contests5m4m(AT)gmail(DOT)com by Wednesday, September 30th in order to claim your prize. Any prizes unclaimed will be forfeited and new winners will be selected.