This post may contain affiliate links. Read my disclosure policy here.
5 Minutes for Books staff reviewer Dawn received a copy of this book to facilitate her review and giveaway.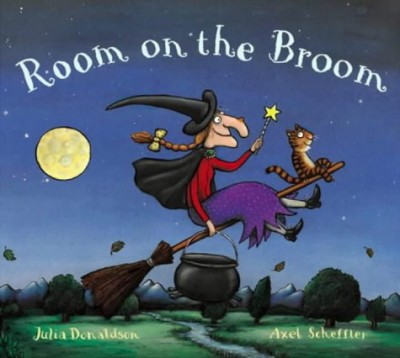 There's a chill in the air (at least where I live!), and as the calendar switches over to October this week, there's one thing on the minds of my children– Halloween. We have made no headway in the costume decision making process that we started, at least in conversation, over the summer, but there is one thing that I'm always prepared to do each fall. We have one bookshelf dedicated to holiday/seasonally themed books, so I will soon be filling a basket with all of our fall titles to be placed in a handy spot in the living room. This year, we are lucky to add a classic to our collection with Julia Donaldson's Room on the Broom.
Though first published over a decade ago, Room on the Broom remains much loved and revisited every year by teachers and parents with their children. The simple story follows a witch atop her trusty broom, with her feline friend by her side. However, the wind proceeds to cause problem after problem for her. The upside is that with each problem, the witch befriends a new creature who asks about room on her broom. In the end, the witch is happy to find that her kindness pays off when her new friends come to her rescue!
Told in rhyme, this is a cute story that isn't scary for young children but features some familiar Halloween-themed images. The illustrations by Axel Scheffler are cartoon-like, with all characters featuring big eyes and wide grins, and a colorful palette makes up the outdoor images, lighted by the moon.
Enter to win
Get ready for some story time fun with Room on the Broom and the new collection of plush figures representing some of the characters in the book. We're happy to have a hardcover copy of the book up for giveaway today, along with the winner's choice of one of the plush toys.