This post may contain affiliate links. Read my disclosure policy here.
Jenny, 5m4m contributor, shares her review of the new Sing Along to Your Baby Ipad app. While we were compensated to write this post, all opinions remain those of the writer.
Children of all ages love music, even babies.  They especially love music that comes along with the sound of their loved ones' voices. Music has often been the saving grace in our home.  It can soothe diaper-changing drama, fussy faces, and even boredom! There are so many ways to integrate music into you and your baby's day!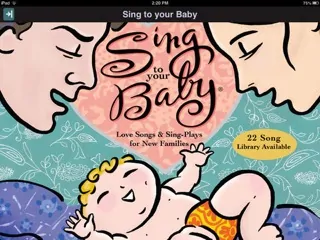 The Sing Along to Your Baby Ipad App makes singing to your baby a fun and memorable experience. Not only can you introduce your baby to a love a music, but you can do it with your own voice.
A lot of children's music can be cheesy or generic, but not with the Sing-Along app.  Whether a nursery rhyme tune or an original song, these tracks will please both you and your baby.
The app was designed by children's music GRAMMY® Award winners Cathy Fink & Marcy Marxer with families and babies in mind.  Each lullaby is perfectly designed for little ones to enjoy and based on an award winning book and CD.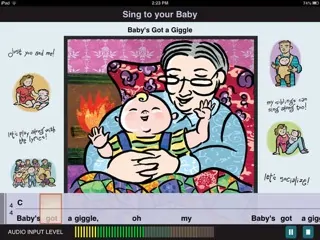 The free app comes with one free song and each song you purchase comes with the following:
Beautiful full color artwork
4 tracks- Mom vocal & instrumental version, Dad vocal & instrumental version (2 different keys)
Record button – record your voice, you and your baby, older siblings with baby, endless combinations
Share – your tracks via email or Facebook
This app is great for all ages.  The ability to share the tracks allows you to share your baby's first sing-along experiences as they learn to speak and sing with you.
I love how interactive the app is.  You can record in whichever key you are comfortable with, sing-along with someone, or record your voice along with an instrumental track.
This app is so interactive and creates a fun experience for the whole family.  Even siblings can get involved and enjoy the sing-along.
Right now you can download the app on itunes along with all the songs in the app using the promo code: giggle.
To learn more about the app, visit their facebook and twitter pages or watchthis videofor more information.
Hi! I'm Jenny! I blog at www.thesweetstuff.blogspot.com all about my home, family (husband and sweet baby girl), being a mom, crafting, cooking, my faith in God, and more. I love the outdoors, living in a small town on the Central Coast and being a mom!