This post may contain affiliate links. Read my disclosure policy here.
I'm sure excited to share with you one of my favorite baby products — AVEENO Baby! I was sent a gift set for the purposes of giving you a first-hand review and we were provided some to giveaway to you guys! All opinions are my own!

There's nothing quite like that newborn smell. It was the icing on the cake of all those newborn snuggles. But then those newborns turn into babies and that "newborn smell" is quickly replaced by the smell of milk, Cheerios, and whatever other food remains on their little hands and faces from another attempt at table foods. Move on to the toddler years and you add the smell of sweet Summer sweat from hours of running around outside.
All of these are fun milestones, but, at the end of the day, I'm ready to have my "clean" smelling baby back!
After having three kids, AVEENO Baby is still my family's number one choice in baby skin care. The AVEENO Baby Wash & Shampoo and Daily Moisture Lotion create a perfect combination that is gentle on my little ones' sensitive skin. And safe for toes that make it to baby's mouth during bath time!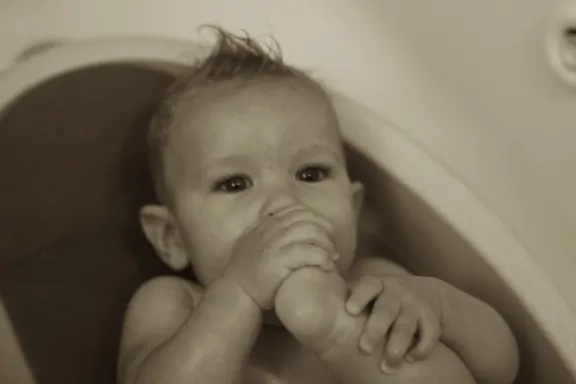 We still use the AVEENO Baby Daily Moisture Lotion on my 5 year old's skin because it's one of the few lotions that are strong enough to keep her skin moisturized but sensitive enough to not irritate her skin. And the "Fragrance Free" feature means no irritating her allergies. As a bonus for me, it's nice only having to buy one bottle of lotion at the store for all of the kids to use!
One of my new favorites from AVEENO Baby this Fall has been their Continuous Protection Lotion Sunscreen. With lots of time outside enjoying the slightly cooler, yet still sunny, Fall weather and his sister's Saturday soccer games, my little guy needs to be protected from the sun's harmful rays. The Continuous Protection Lotion Sunscreen does just that. Still fragrance free (yay!), the lotion is a broad spectrum SPF 55 that rubs in quickly and does not leave a greasy feel to his skin and is sweat and water resistant (up to 80 minutes). I currently keep a bottle in my diaper bag, the car and our 'beach bag' turned 'soccer bag'.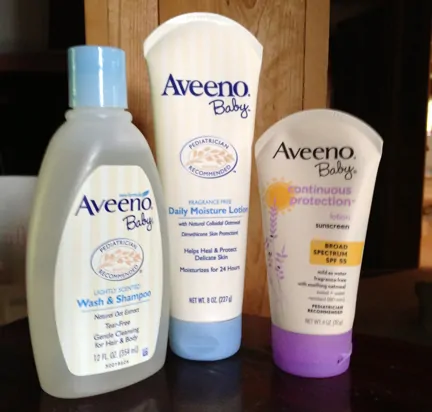 While the weather begins to turn colder and Winter arrives, I know that keeping my kids' skin moisturized against that dry winter wind is going to be important. For us, that means we'll be stocking up on AVEENO Baby products. Oh, and the other cool thing about the Continuous Protection Lotion Sunscreen is that it includes Active Naturals Colloidal Oatmeal which will continue to hydrate and sooth baby's skin while the Enviroguard Technology maintains broad spectrum protection against those UVA/UVBs! Two in one…saving this busy mom a little much needed time!
What about you? Have you tried AVEENO Baby on your little ones?
Enter to win
2 readers are going to win a set of the Aveeno products listed above. To enter this giveaway, simply enter your name and email address in the Giveaway Tools form below to get started.
Blogging at StaceySays.com about life as a mother to 3 young kids, Stacey dreams big through her life list and is currently shopping two of her children's books to publishers.