This post may contain affiliate links. Read my disclosure policy here.
Jennifer here to share with you about my favorite new toy from Key Ingredient — the Kitchen Safe Recipe Reader. We were sent a unit for review and provided one to give away, however all opinions remain our own.
I wish you could see my cookbooks. I was looking through them the other day and got a great laugh because almost every single one of them has food or flour smeared across the pages. Yes — I cook and bake a lot. I have done it for years and my kids have been right along my side (which speaks for all the food smears in my books!).
My cookbooks though are starting to take up WAY too much space, so when I heard about Key Ingredient's Kitchen Safe Recipe Reader, I was completely intrigued.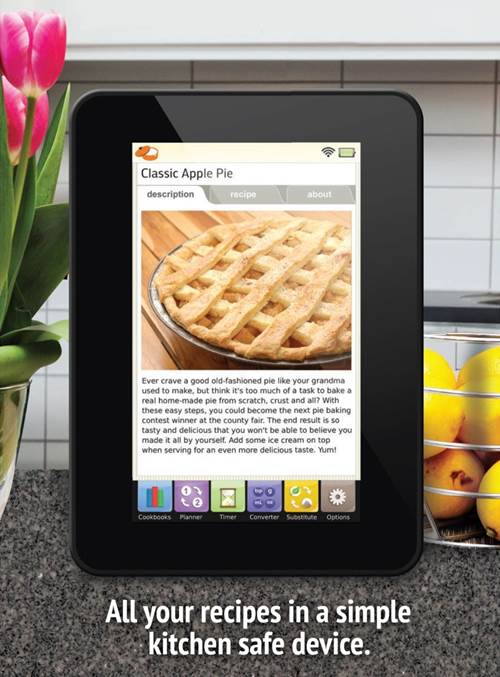 I love this new gadget of mine. Every cookbook I own is filled with recipes that I love. However, sometimes I cannot remember exactly which book it came out of and I can spend a couple of hours just searching. With this reader, I have all of my favorite recipes, and then some, at my fingertips.
It is very easy to use and navigate through. The large keyboard and font size keeps me from squinting, and it has a sealed glass touch screen, which means it is totally OK to wipe it off. No more messy pages in my cookbooks!
The Recipe Reader is equipped with three kitchen timers that can run simultaneously and a planner feature that allows quick access to selected recipes to make planning meals a breeze! A substitution tool and conversion calculator are also available.
About Key Ingredient

Key Ingredient (www.Keyingredient.com) hosts the web's largest shareable collection of over 1.5 million user-generated recipes. The Key Ingredient ecosystem gathers and syndicates recipes from across KeyIngredient.com to mobile apps and through Wi-Fi to the Key Ingredient Recipe Reader.
Community Cookbook Contest
I also love how Key Ingredient does their best to give back to the community. That speaks a lot for the brand. They are a company that cares.
Key Ingredient is Sponsoring Individual Events to Help Build a Bridge between Older and Younger Generations in Your Community
They want to help facilitate this connection through a unique offer and opportunity they call the "Community Cookbook Contest".  Theyare offering to sponsor a Cooking themed event with more than $400 in gifts, prizes, and other materials, for the first 200 communities to sign up to host such an event. Also, you have a chance to win $2000 from Key Ingredient!
Click here to get all the details and get ready to cook for a cause!
Enter to win
One lucky reader is going to get their chance to win the Key Ingredient Kitchen Safe Recipe Reader. To get started, simply enter your Name and email and click begin in the Giveaway Tools form below.