This post may contain affiliate links. Read my disclosure policy here.
Jenny, 5m4m contributor is here to share her insights into these amazing grammar apps that are sure to help your child learn and grow in their parts of speech knowledge. While we were compensated to write this review, all opinions remain those of the writer.
As an English teacher for the past six years, I have watched students across grade levels struggle with grammar.  I have heard the groans when I announced that we would be talking about commas.  I have seen the confusion, frustration, and boredom on their faces.
With all the technology we have readily available at our fingertips, students often find bookwork mundane and tedious. A digital education is what many students need to help them in the learning process.
That's why McGraw-Hill Education, a renowned textbook creator0turned digital learning company, has created grammar apps for students. These apps are part of McGraw-Hill Education's Reading Wonders program, the first reading program built specifically for the Common Core State Standards for Reading/Language Arts.
In my experience as a teacher, I have seen the positive impact that digital learning can have on students' interest in lessons and acquisition of knowledge. Technology moves at a faster pace to keep up with students' ever changing attention spans.  Technology uses color, sound, and more to draw in students and keep them focused on the information they need to obtain.
I had a chance to try out Grammar Wonderland for both K-2 and 3-6. I loved how engaging it was. Goodby boring worksheets and hello fun and interactive games.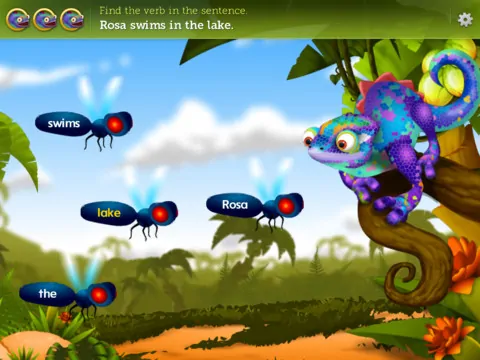 By creating these apps for students to use, McGraw-Hill Education has provided a fun and interactive method for them to improve their grammar.  So many kids today spend time on their devices, why not make it more educational?
The apps are available for k-2  and 3-6 students and help support students as they transition to the common core standards.  All schools teach from the common core standards and these apps are no different, meaning that when your student uses them they will be aligned with what their teachers want them to know.
These apps have been wonderfully designed using bright colors, easy-to-navigate pages, fun mascots, and a game-like feel.  Your child will enjoy using these apps and will learn something in the process!
The best part? They're free!
You can download these apps for free on iTunes or check out their website for more information. Whether your child attends public school, online school, or is homeschooled, these apps would be perfect for reviewing and perfecting their grammar.
My favorite things
Here are my favorite things about these apps:
Age-appropriate
Easy-to-use
Fun
Aligned with common core standards
Colorful
Interactive
Free
Download these apps today and give your student a leg up as the year commences! I can't wait to tell my students about this app.
Hi! I'm Jenny! I blog at www.thesweetstuff.blogspot.com all about my home, family (husband and sweet baby girl), being a mom, crafting, cooking, my faith in God, and more. I love the outdoors, living in a small town on the Central Coast and being a mom!