This post may contain affiliate links. Read my disclosure policy here.
Michelle of Honest & Truly!, 5 Minutes for Mom contributor, is here to share her insights into Disconnect's Disconnect Kids! iOS app through this sponsored post. While we were compensated to write this post, our writers views and opinions remain her own.
With the wee ones using the Internet more and more, I get a little worried as a parent. Mister Man's teacher has his own website and encourages students to do research and begin using computers as a tool. While I have a lot of awareness about what I'm doing online and how to keep myself safe, that takes knowledge, experience, and maturity that most children just don't have yet. Disconnect Kids! offers a great way to secure kids' privacy online.

Disconnect Kids! is available for iPhone and iPads, devices kids are frequently using. In addition to the iOS version, there is also a browser extension available for my PC. The app and browser extension are free, although you can choose to donate to help keep the corporation running. The app works by blocking tracking browsing and activity, which not only helps increase child privacy but also allows websites to load up to 27% faster because they aren't being slowed by additional web traffic and targeted ads.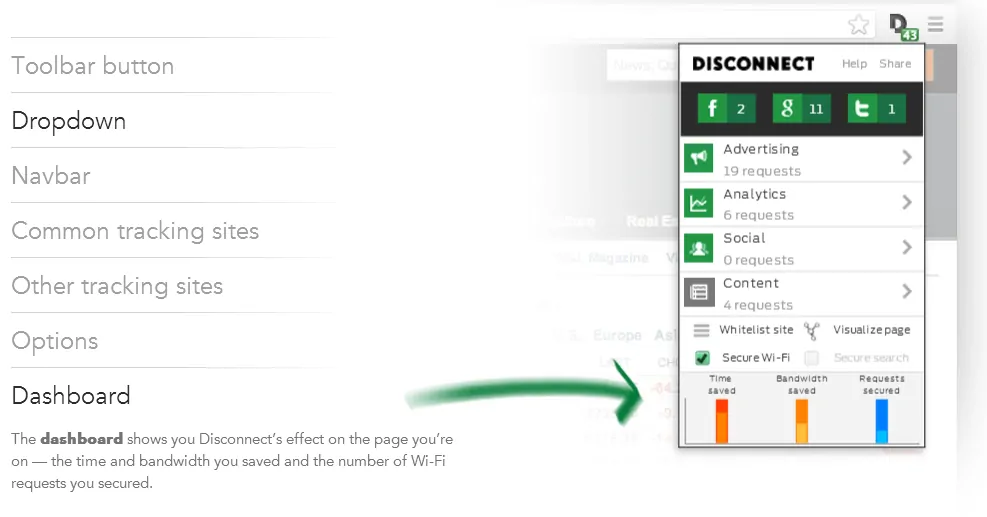 Some tracking is visible, but much of it is not.  The companies track your data for a variety of reasons, but just knowing that companies can see my browsing and app activity makes me a little concerned. I am careful with my parental controls where I can be to minimize this, and Disconnect Kids! fits right into that toolbox. While it's illegal to track information for anyone under 13 thanks to COPPA, companies can't tell the age of who is using an app, so they track usage anyway.  So much for app privacy. Disconnect Kids! stops this, and I have to admit that as an adult, I want this installed for myself!
It's easy to install and configure the free app. You do have to grant permission on your iOS device to install it, but that is quickly and easily done. From there, you can choose what services to block, from AdMob that deliverse targeted ads to Localytics to DoubleClick and more. The default is to block all of them, but adjusting the settings to unblock any you choose is easy to do. I have to admit that I feel more secure knowing my data is being blocked, as I don't appreciate unwillingly sharing my online activity. Keeping my children safe – who have even less  awareness and are supposed to be protected by law – is even more important.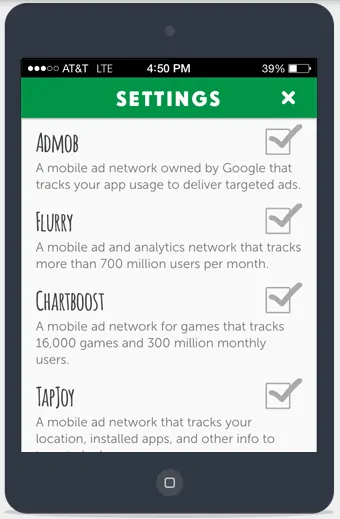 Another benefit to the app is that it includes educational information about how tracking software works and how easy it is to utilize the information that we think we're keeping secure. When I showed the video portion of the educational app to Mister Man, his eyes opened wide, and his mouth hung open. He had no idea that "bad people were doing that," as he put it. And until now, I had no way to stop it. Every place where I can help show that the Internet is not just a useful place to gather information or be entertained is a win, and Disconnect Kids! does this in a creative, short, and impactful way via their videos and animations.
The fact that websites can load up to 27% faster now that I had Disconnect Kids! installed? Bonus. The fact that blocking this traffic on my iPad and desktop also uses 17% less bandwith? Now that's an actual savings, especially on my devices where I pay for the data package.
Michelle may never stop running around Chicagoland, but she always makes time for the important things in her life – her wee ones, cooking, reading, and spending time with friends – and of course, writing. You can see what she's up to on her blog Honest & Truly! or on Twitter where she tweets as @HonestAndTruly.