This post may contain affiliate links. Read my disclosure policy here.
5M4M contributor Jennifer Donovan received a copy of the book to facilitate her review of this sponsored campaign.

My kids went back to school this week. They woke up on time, got out the door, and the buses even ran right on schedule, which doesn't ever seem to happen, but I was stressed out by the desire to get the perfect first day picture. It was dark when my daughter left for high school, and cloudy and overcast when my son left an hour and a half later, so the light was bad. My daughter was in a rush, even though she was out at the corner a good 10 minutes before the bus came.  So I started off the day feeling like a little bit of a failure.
Then as I looked at everyone's clever pictures on Facebook where they were holding up their fingers to indicate their grade or standing next to a sign hand-made by a crafty mom, I felt even worse. But when I started thinking about this post, and looking back on some old pictures, I started to feel better, especially after making a couple of quick PicMonkey collages.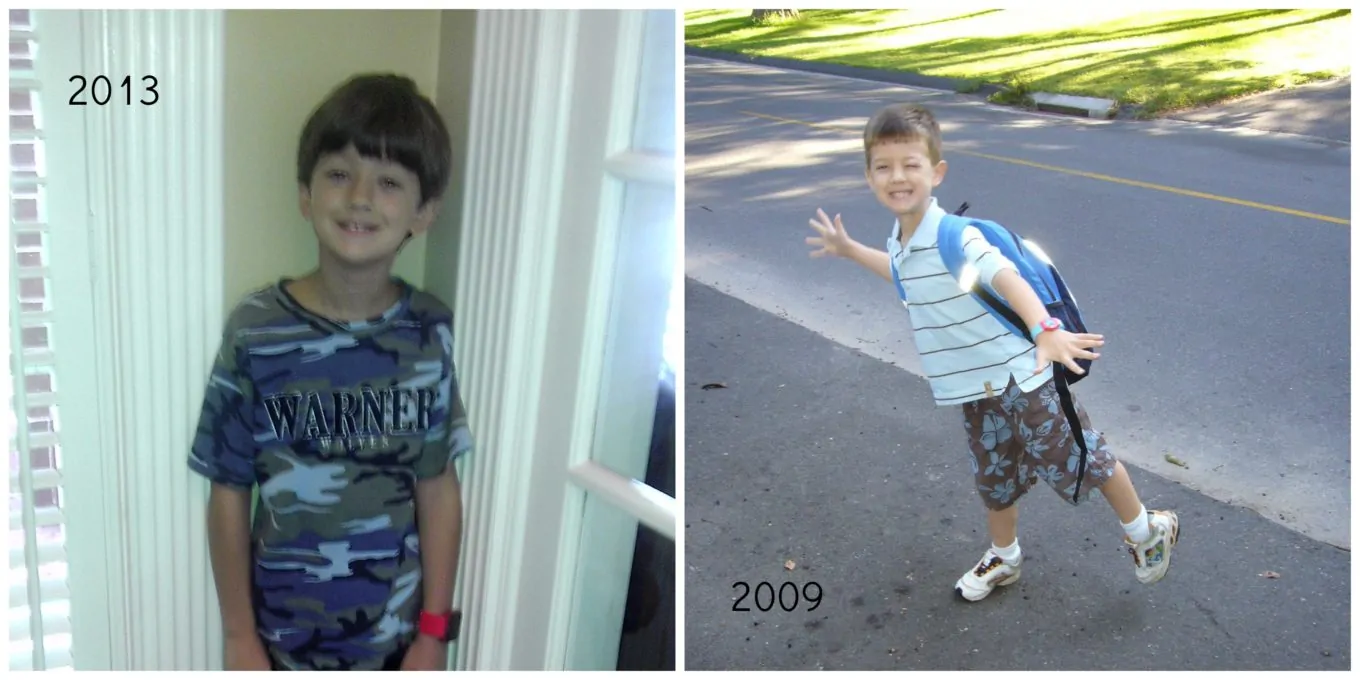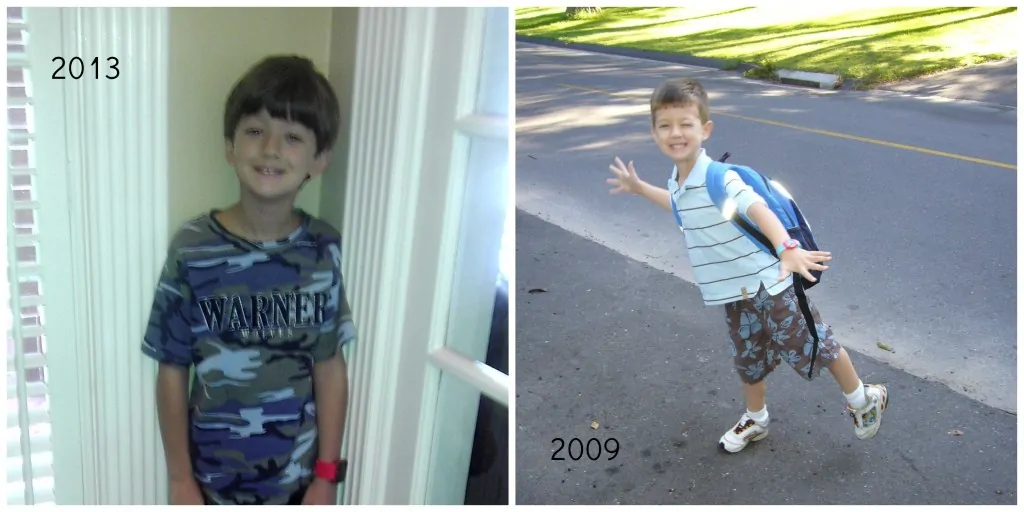 This was my son's very first day of school. Remembering how excited he was to start kindergarten warmed my heart (and made me thankful that I was good about recording those things in my personal blog at the time). This year he wasn't so excited to start 4th grade, and what's worse, he came home telling me that his teacher was mean.
My daughter is a sophomore in high school. I grabbed her picture from 2009 as well, which was her first day of 6th grade, almost as momentous as Kyle's first day of Kindergarten.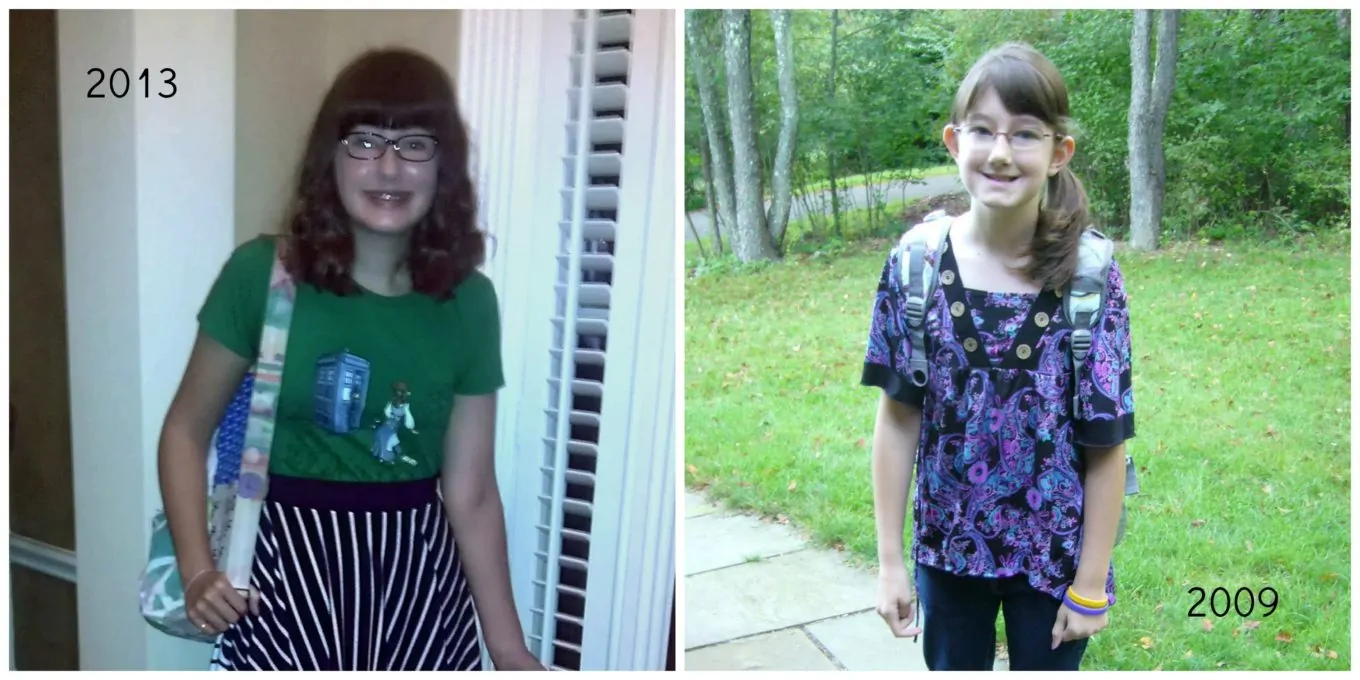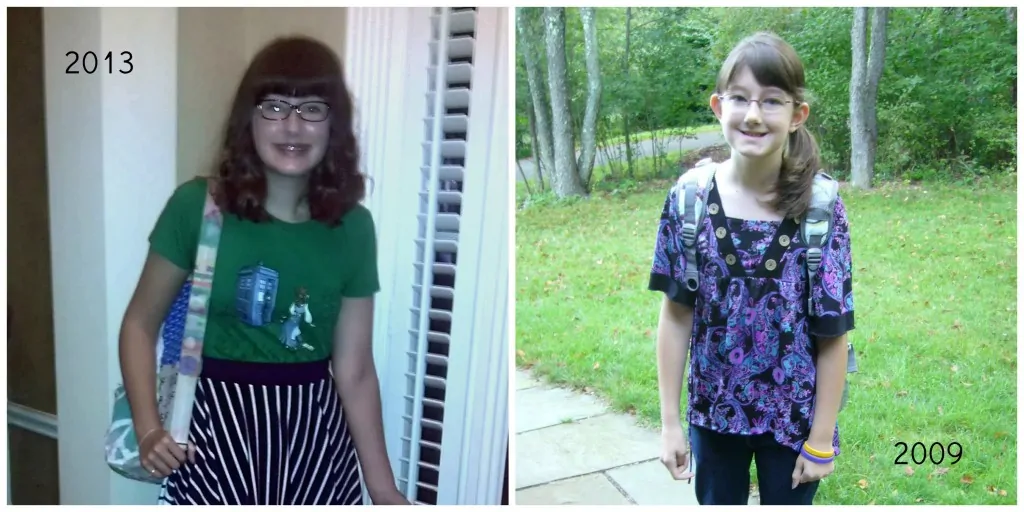 She was ready to get back to school this year, but she also came back feeling less than enthused about her schedule. Amanda doesn't have classes with her good friends and most importantly in her mind, doesn't get to eat lunch with them either.
We're on day three now, and both kids had a better perspective after the second day, so I'm holding out hope that it will be a good year for both of them. Looking back at the pictures reminds me that the time goes quickly, and even if 2013 – 2014 isn't their favorite year, I'll be snapping first day pictures of a new year before we know it.
Reading Tony Baloney School Rules about his first day of school, I saw so many parallels. Just like Kyle on his first day of Kindergarten, which he anticipated with joy, Tony Baloney was excited, and they both had big sisters to help show them the ropes.
As we waited on the trial bus run for the Kindergarteners that day in 2009, Amanda was passing on all the knowledge she had gleaned, including, "Don't go pass this line when you're out here waiting for the bus. The cars can't see you, and you have to be careful."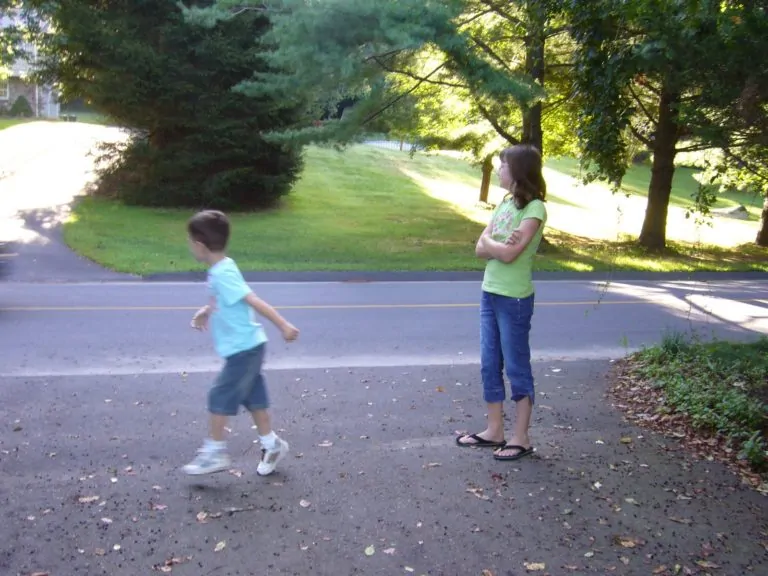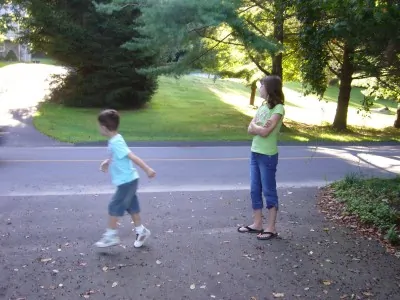 Tony Baloney School Rules is an early reader written by Pam Muñoz Ryan and illustrated by Edwin Fotheringham. It has 30 pages and 4 short chapters. This is my first Tony Baloney book to read, and I believe it's the first easy reader from this beloved character. I love the bright drawings, and I love the dialogue and speech bubbles, which was the kind of reading that my son loved to try on his own as he was working towards independent reading.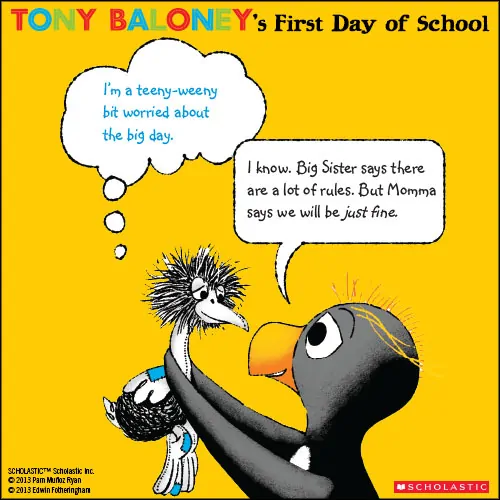 I'm hoping that Kyle learns the "school rules" that this particular teacher expects of him, and that Amanda adjusts to the new rigors of her second year in high school.