This post may contain affiliate links. Read my disclosure policy here.
Jenny, 5m4m contributor shares her insights into the Sleep Genius app. While we were compensated to write this post, all opinions remain those of the writer.
Any busy mother knows the value of a good night's rest, whether it be for her child or the adults in the family. With all the demands that parents face day in and day out (and sometimes in the middle of the night), being able to fall asleep quickly and to sleep deeply is exceedingly important.
I have tried a variety of sleep sounds for my daughter: ocean sounds, heartbeat sounds, and more.  However, I've never attempted to do the same for myself. That's where the Sleep Genius mobile app comes in.  They have created an app to help both children and adults obtain the best night's sleep possible.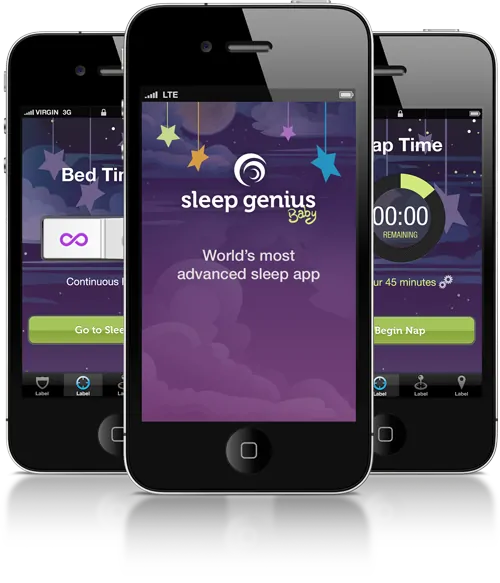 There are many methods that people use to help themselves fall asleep, but most are old wives' tales or gimmicks: drink a glass of warm milk, count sheep, eat something starchy.  However, the Sleep Genius app has been scientifically designed with three major goals in mind:
to help you sleep deeper.
to help you sleep faster.
to help you sleep longer.
The science behind the app focuses on these four major sleep components:
Neurosensory Algorithms

Helps you get to sleep faster by triggering a motion induced sensation in your brain… similar to a baby being rocked to sleep.

Binaural Beats

Keeps you asleep by training your brain to match the waveforms in the various stages of sleep.

Pink Noise

Blocks out distracting noises and relaxes you by slowing down your breath rate and heart rate.

Psychoacoustic Music

Relaxes your brain allowing you to fall asleep faster using scientifically composed low frequency, low tone density, and low tempo music.
The app is designed for simple use.  It allows you to choose your sounds, set the length of time the app runs for or play the app continuously throughout your sleep, and set an alarm.
Using this app for an afternoon nap is perfect.  I have never been able to nap.  When I was pregnant with my first daughter, I never napped.  I took two naps after she was born and have taken one during my second pregnancy.  I simply can't seem to turn off my brain.  The Sleep Genius sleep app takes care of my multi-tasking brain through its scientific methods, making sleep possible.
The decades of research that fueled this app and its clinically proven effectiveness make it the perfect mobile app for baby, child, mom, or dad.  It is effective for naps or night sleep and can be used on the go as well!
Visit the Sleep Genius website, itunes app page, facebook page, or twitter to learn more!
Hi! I'm Jenny! I blog at www.thesweetstuff.blogspot.com all about my home, family (husband and sweet baby girl), being a mom, crafting, cooking, my faith in God, and more. I love the outdoors, living in a small town on the Central Coast and being a mom!