This post may contain affiliate links. Read my disclosure policy here.
Michelle from Honest & Truly!, 5 Minutes for Mom contributor, is here to share her insights into MyHeritage's Treasure Family Photos initiative via this sponsored post. While we were compensated to write this post, our writers views and opinions remain her own.
Oftentimes when the wee ones visit my parents, my mom pulls out photo albums. They may be ones from when I was a child or from when the wee ones were younger. They love to sit and listen to the stories behind the photos – who each person is, what they were doing, and how silly the instance may have been.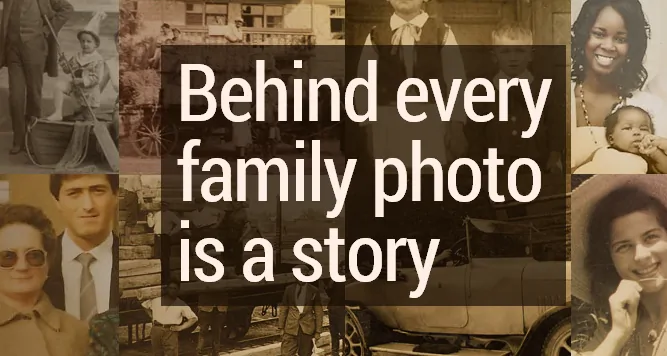 Those are the memories they treasure, and I love that this is possible for them because my parents live so close to us. MyHeritage has a Treasure Family Photos initiative that encourages uploading those photos and digitally preserving them online so that you can share them with your family, learn more about them and keep them safe for future generations.
Keeping them safe for future generations is key. Right now, essentially all my photos since 2001 are on various computers around my house. I haven't printed them (let alone organized them into yearly albums like my mom), and they aren't online in a safe place. I'm scared to lose them, and the online family tree at MyHeritage where you can safely upload family photos is ingenious
The site allows you to scan and upload family photos, then share them with family and friends. If you know the name of the person in the photo, you can easily tag them, add details about the photo, and share it privately with who you choose.
It allows you to include information about each person, such as birth, death, spouse, siblings, children, where they lived and more, so you can create a virtual family tree with notes. For those family members who have a better memory, they can add their contributions, making it an easy collaboration on your geneology.
It's a brilliant idea to help share memories across generations and locations as our families become more and more spread out. You can also search the global collection of old family photos that have been contributed and shared by families around the world, searching by first and/or last name, as well as keywords.
I searched my mother's fairly uncommon maiden name and found scores (literally) of photos, many of whom are probably relatives in some way, which is fascinating to me. Information on living people is not disclosed to protect privacy.
With summer still here for a little while, this is the perfect opportunity to put together a family project with your children to save and share your family memories. There are amazing family activities MyHeritage has come up with to help showcase your family legacy with photo crafts and activities that will also be beautiful additions to your home from magnets with old family photos to a guess the ancestor game and more. Given the excitement the wee ones show whenever they get to view family photos, I can only imagine the fun they'd have with some of these activities.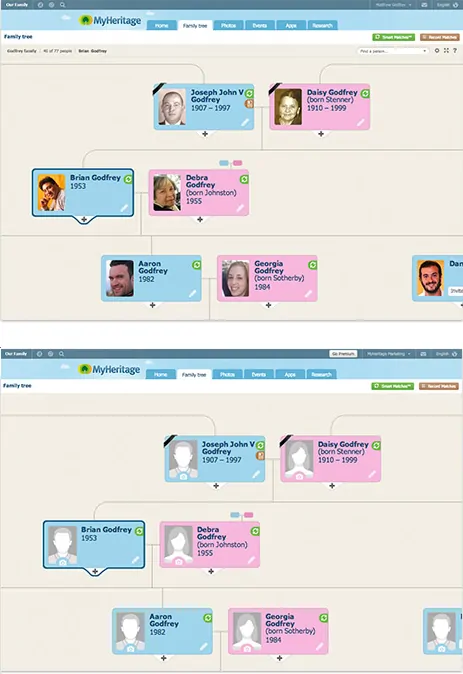 Family history is important, and it's so easy to just say you'll do it tomorrow. MyHeritage has made it too easy not to start working on safeguarding some of these precious family memories. Even if you don't know where to start, especially with some of the truly old family photos, MyHeritage has suggestions on how to restore and preserve your old photos so future generations can get to know their ancestors more easily.
So what are you waiting for? Make this a whole family project. You never know who you'll meet!
Stay connected with My Heritage:
Michelle may never stop running around Chicagoland, but she always makes time for the important things in her life – her wee ones, cooking, reading, and spending time with friends – and of course, writing. You can see what she's up to on her blog Honest & Truly! or on Twitter where she tweets as @HonestAndTruly.