This post may contain affiliate links. Read my disclosure policy here.
Jenny, 5m4m contributor shares her insights into this review of the Zoomingo app. We were compensated to write this post. All opinions listed are her own.
Smartphones are convenient for checking emails, sharing photos, communicating via social media,  and much more. Did you know that your smartphone can also help you save money? It's true.
There are a plethora of apps available on any smartphone, but as a stay-at-home mom on a budget, I was thrilled to find Zoomingo: a shopping app for finding the best local deals, sale events, and more!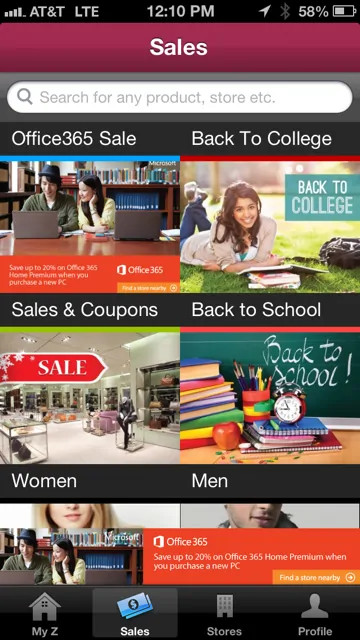 I don't always have time to haul my kids around town comparing prices or to look up multiple store websites in order to find deals. However, saving money and getting the best deal are important to me.
Zoomingo is convenient because it does the searching for you.
Some of my favorite features of Zoomingo are:
choosing the stores you want to follow
choosing which items you are interested in (clothing kitchen, etc.).
searching by store, coupons and sales, or your favorites.
enter into contests to win products
streamline your lists by "liking" or "disliking" discount posts.
create shopping lists and be notified when the items are on sale.
set your location to receive updates for your area.
There are so many ways to use Zoomingo and you can use it whenever and wherever you are.  Money can be saved when you find a coupon you didn't know existed or realize an item you need to purchase will be discounted in a few days.
Not only is this app perfect for the money-saving moms out there, it is also the #1 top rated shopping app and is featured as a MUST-HAVE app by Google play.  The best part? This app is totally free and is available for iPhone or Android users!
With the school year just around the corner, this app is perfect for making your back-to-school shopping easier and cheaper.
The app even has specific Back-to-School and Back-to-College categories to help you with your beginning of the school year shopping.
I found the app extremely easy-to-use, simple and incredibly helpful.  I will definitely be using this app as part of my shopping routine!
Hi! I'm Jenny! I blog at www.thesweetstuff.blogspot.com all about my home, family (husband and sweet baby girl), being a mom, crafting, cooking, my faith in God, and more. I love the outdoors, living in a small town on the Central Coast and being a mom!