This post may contain affiliate links. Read my disclosure policy here.
My kids have been in school for a month now, and already I'm falling into a rut with lunchtime. How about you?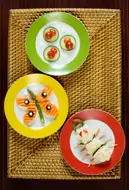 If I don't take advantage of lunchtime as an opportunity to get in some fruits and veggies, I'm even further behind the goals for the day, so I do try.
Check out these adorable ideas from Love Your Veggies. You can find the recipes for the Veggie Critter Snacks and Kangaroo Pouches pictured here, as well as several other creative ideas.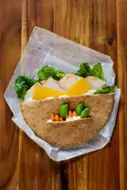 I had the opportunity to talk with nutritionist Jodie Shield about kids' nutrition. She was SO encouraging. The podcast is less than thirty minutes, so I hope that you'll take the time to download it (right from here or subscribe at itunes), or take a quick listen right now.
[display_podcast]
Listen in if you have wondered
Why don't kids eat veggies?
How can we expand our kids' palates?
What should we avoid in our efforts to get our kids to eat more veggies?
What are some tips and tricks for getting more veggies into our diets?
The website that she mentioned in our interview that has lots of great veggie ideas is Veggie Monthly. Check it out if you need to be inspired.
And didn't I mention that you could get paid for trying to help kids have better nutrition?
Yep–The Hidden Valley Ranch Love Your Veggies Grant Program is open now. $10,000 in funds are available to grant winners who want to help improve fruit and veggie offerings in their local elementary school. Just check out the Grant Information page, and submit your application by November 6.
Want something quicker and easier? One twitter user will be awarded a $10,000 grant. Be sure to see how you can earn extra points as well. Describe your project in 140 characters or less in a twitter contest @HVRanch. This contest ends October 2, so check out the official rules, and let @HVRanch know why your local elementary school deserves a Love Your Veggies grant.
What are your best tips for getting kids to eat fruits and veggies? Please share!

Written by contributing editor Jennifer Donovan, who also manages 5 Minutes for Books and blogs at Snapshot