This post may contain affiliate links. Read my disclosure policy here.
This post was submitted by Tara.
Dealing with a child with disabilities is a challenge that no parent is ever prepared for. Discovering disabilities by the age of one can be even more so frustrating because the child has yet to develop language skills.
Natural instinct as a parent is to shelter the child in the necessary way while at the same time not allowing the child to think they are different from other children their age. It can be a delicate balance.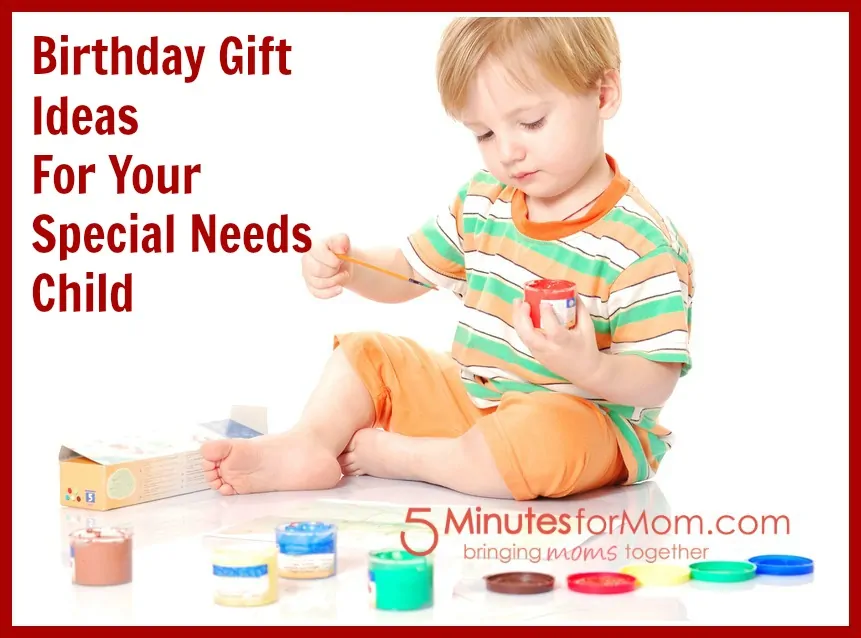 Finding gifts for special needs children poses a problem that other parents do not face, especially for a first birthday.
When selecting toys for your special needs infant keep it simple. The idea is to encourage the child to speak instead of having the toy speak for them. Any noises the child makes helps develop the skills needed to being forming words and sounds. Finding ways to make the child interact and move around is another bonus.
It is possible to cater to the needs of the child while at the same time getting gifts that can be fun, useful, and personal to the child.
Name Caddy: This can be used to put toys in, pull toys out of, and explore. Putting the name on the side encourages them to associate the sight of the name with themselves as well.
Puzzle Table: This toy allows the child to think creatively, make noise, and experiment with a number of motor skills during play.
Stuffed Animal: Every child has a favorite stuffed animal. It's a friend, confidant, something that the child relates to, finds comfort from, and can cherish for years. Get one that can be personalized to create an icon for the future.
Blankets: A blanket can be used for its intended purpose, but also is useful for creative play such as playing peek-a-boo or making blanket forts.
Building Blocks: The large blocks are great for little ones and encourage them to interact and use creativity to build.
Touchy Feely Books: There are a number of books on the market that have hard pages with material in them that children can touch to explore. The books can teach, but they also interact with the child unlike traditional books.
Plush Photo Book: These are available in a number of stores and are soft, squishy books that photos can be inserted into. These books allow children to learn about family.
These are only a list of simple suggestions. But when it comes to a first birthday it isn't just about the presents, but the memories that can be created as well.
Fun items for mom and dad, such as personalized picture frames and 1st birthday bibs or shirts with the child's name on it, can be found at www.personalcreations.com. There are also party hats and growth charts, birthday banners and rompers.
While keeping the toys and the theme within the interest of the child, they need proper encouragement at such a young age to develop properly, so aside from thinking about gifts, save time out of the day for some interactive playtime without all the bells and whistles.
The benefit of this age is that the birthday isn't just about the gifts, it's about the encouragement given and memories that are made.
 Your turn
What gifts do you have in mind that you can give to a special needs child on their 1st birthday?