This post may contain affiliate links. Read my disclosure policy here.
5 Minutes for Books staff reviewer Nancy received a copy of this book to facilitate her review and is here to share her thoughts and offer up a giveaway copy for one of you.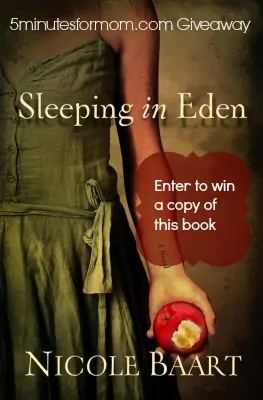 Sleeping in Eden starts with a bang – a man has hung himself, and a buried body is discovered beneath his dangling feet.
Lucas Hudson, one of three doctors in small town in Iowa, fills in for the medical examiner as a favor to the chief of police when Jim Sparks's body is found in his barn, hanging from a rope.  Lucas stumbles across what turns out to be another body, that of a female, which has laid undiscovered for 10 years. Lucas's belief that he knows who the body is weighs on him as he withholds evidence he found in the barn, and he also has to deal with the reappearance of Jim's daughter, Angela, who was close to Lucas's wife Jenna until she disappeared, running from Jim's abuse.  Lucas and Jenna's marriage has been disintegrating due to their own tragedy, and Angela's return can either make or break them.
Years earlier, Meg Painter meets and falls for Dylan Reid, a boy who is unattainable and elusive, but she can't get him out of her head.  She takes the easier route with neighbor Jess, and Dylan and Jess each warn her about the other. Just when Meg and Dylan seem to be getting their lives together, it all comes crashing down.
The story flips between Lucas and Meg, and at times the transition is too fast and jarring. I found Meg's story to be the more compelling one and often skipped Lucas's chapter, only to return to it later when I found out what happened next with Meg.  It's pretty clear from the beginning where the story is headed, but the fun is in finding out how it gets there.
Sleeping in Eden covers many areas – teen love, complete with the mysteries of the opposite sex and exploring new territory, is contrasted with a marriage that's holding on by a thread. The mystery of who is buried in the barn is underlying throughout the book, though often takes a backseat to more pressing concerns of everyday life. As in real life, the actions of the characters are often frustrating which makes them realistic.
Sleeping in Eden may not be an uplifting novel but it's an entertaining one that I recommend.
Win it!
One of you (U.S. only) can enter to win a copy of this novel. Use the rafflecopter below to enter this giveaway. New to Rafflecopter? Watch this 45-second video on how to enter!
And yes, one of you can win your own copy! Follow the instructions below to enter.