This post may contain affiliate links. Read my disclosure policy here.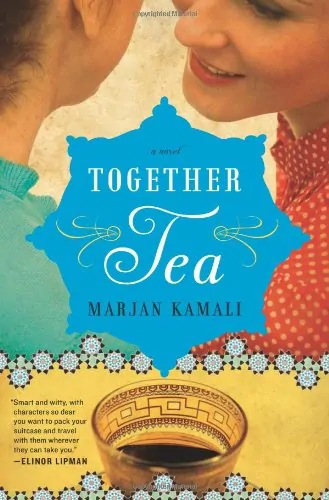 5 Minutes for Books reviewer Elizabeth received a review copy from TLC Book Tours. Click through to find out more about this book and author.
Mina and her mother Darya  have a common type of relationship. Mina's just turning 25, and has lived in the US since she was 11 and fled the Iranian Revolution. (Together Tea is set in 1996. Thank you for noticing that the Iranian Revolution wasn't 14 years ago) She and her brothers have been pressured into excelling, and they have. One brother is a doctor, another an engineer, and Mina herself is a business student although she longs to pursue an art career.
Mina's mother is concerned that her daughter isn't married yet, and she spends a lot of time finding out about eligible young Iranian bachelors, with impeccable degrees and families and other credentials. She creates spreadsheets on them and shows them to Mina, who rolls her eyes.In fact she has the perfect  birthday present for Mina–tea with the single and successful Mr. Dashti.
Mina misses her old mother, the Darya she knew in Tehran as a child. This mother had long black hair and laughed frequently, instead of having bright red dyed hair and a throbbing forehead vein as she shouts at things. She agrees to the tea but things don't go well, and Mr. Dashti seems as relieved about that as she is.
Mina decides to travel back to Iran, and her mother decides to come with her. The storyline goes back to 1978-80, during the build-up to and the actual revolution, when suddenly women weren't allowed out without a headscarf and long coat, and gangs of armed men roamed the streets looking for anyone violating this rule. It returns to a time when Mina was part of an extended family, well-known and well-loved, and Darya knew her place in the world and how that world functioned, and that place was home in a way a new land can never be.
Together Tea
looks at both mother-daughter relationships and the hardships of immigration, as Mina feels herself  dancing on the hyphen of the label "Iranian-American." Is she Iranian? Yes of course, but at the same time, no, it's no longer home. Is she American? With memories of war and revolution, with a home different from her classmates, no, not entirely, but yes, it's the place she wants to live.
One thing I loved about Together Tea
was how well it captured the immigrant experience. For immigrants, "home" remains frozen in time and the things of that particular time and place are honoured and almost enshrined. For those who never leave, however, culture changes and life moves on. Darya and Mina both experience the bittersweetness of this, as Mina learns that not all Iranian children are pressured to excel in school as if that was all in life, and that boys and girls her own age are dating, albeit in secret. She sees how her own mother, safe in America, keeps her children tightly reined in, in a culture she views as promiscuous. Ironically, back in Iran in an extremely repressive society, her friend's mother behaves in the opposite manner, allowing her daughter to stretch boundaries to the limit. The trip allows mother and daughter to view each other afresh, and strengthens their relationship.
I loved this book. Although she didn't flee war, my own immigrant mother struggled with living in a place that was home to her children but never entirely to her. Together Tea
also portrays very well the struggle between many mothers and daughters as the daughters need to find their own way in a new world but still need their mother's advice, food and love.
Highly, highly recommended.
Win it!
One of you (U.S. and Canadian residents) can win a copy. Use the rafflecopter below to enter this giveaway. New to Rafflecopter? Watch this 45-second video on how to enter!
And yes, one of you can win your own copy!  Follow the instructions below to enter.