This post may contain affiliate links. Read my disclosure policy here.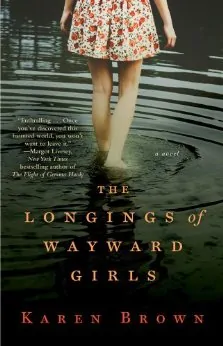 The real-life disappearance of a girl in 1970s Connecticut sets the stage for this great summer read. Children can be amazingly cruel and I'm sure we all have our own stories of events from our childhoods (7th grade was particularly rough for me).  The Longings of Wayward Girls highlights what can happen when things go too far.
Sadie Watkins has an amazing imagination, leading the neighborhood kids in many ventures including a Haunted Woods, using local legends and ghost stories as the backdrop. The disappearance of Laura Loomis 5 years earlier hangs over the children of Wintonbury, but they quickly ignore their parents' mandates to stay out of the woods. Sadie and her best friend, Betty, bored and nostalgic for their younger years, play elaborate dress-up games, and what starts out as a harmless prank ends with another girl disappearing.  Sadie also has to deal with the townspeople mistaking her for Laura due to her resemblance to the missing girl, a mother who drowns her sorrows in alcohol, and being forced to spend time with Beth, the daughter of her mother's friend, all while harboring a crush on Beth's brother Ray.
24 years later Sadie is married, with 2 amazing kiddos — Sylvia, who has followed in her footsteps and lives in a world of fairies and fairy tales, and Max, a happy-go-lucky four-year-old — but has just suffered the devastating stillbirth of a baby girl.  When Ray walks back into her life, Sadie is caught off guard.  Sadie has a pretty good life, with loving children, supportive friends and a good marriage, but losing her child, combined with unresolved issues from her childhood, leads her down an unwise path with Ray, who she finds has unresolved issues of his own related to Sadie's mother.
The Longings of Wayward Girls flips between Sadie's present and past, both 1974, the year of Laura's disappearance, and 1979, when Sadie is in the throes of adolescence,  and the transitions are sometimes jarring, and while I had some trouble getting into it in the beginning, the story eventually unfolds, with enough suspense to keep the reader on tenterhooks. It's clear nothing good will come of Sadie and Betty's prank, as well as Sadie's relationship with Ray, and it's also clear that something's not right with Beth, though it's never really revealed exactly what.  The carefree childhood of the 70's, as well as the more structured times we live in today, are both well represented.
This is an excellent effort for first-time novelist Karen Brown and I look forward to her future efforts.
Win it!
One of you (U.S. only) can win a copy. Use the rafflecopter below to enter this giveaway. New to Rafflecopter? Watch this 45-second video on how to enter!