This post may contain affiliate links. Read my disclosure policy here.
Author Jim Denney is here today to share how to inspire a love of reading in kids.
Some of my earliest memories are of my mother reading books to me. And some of my happiest memories are of reading books to my own children.
My two kids are grown now, but they still talk about a summer trip we took to the main library downtown when they were small. We spent a leisurely hour or more searching the shelves in the children's room.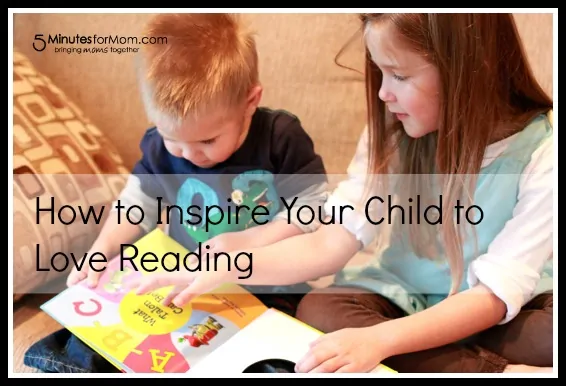 Then we drove around, visiting various city landmarks, finally ending up at City Hall. On a whim, we went to the mayor's office, arriving just as she was leaving for lunch. She graciously paused and chatted with us—a memorable conclusion to our library trip.
The key to encouraging children to become lifelong readers is to help them associate reading with fun, adventure, and warm memories. Unfortunately, all too many kids forsake reading as they begin to associate books with schoolwork and pressure from parents and teachers.
There are many entertainment options competing for your child's attention, including video games, social networking, and smart phone apps. So we need to think strategically and intentionally about ways to instill a love of reading in our kids, beginning when they are preschoolers and continuing through their teenage years. Here are some ideas:
How to Inspire Your Child to Love Reading
Create a cozy reading nook for your child.

The ideal book nook should contain a comfortable chair with easy-to-reach bookshelves, bookmarks, a handy dictionary, pencils and a notepad, and a blanket for snug reading in the wintertime.


Encourage younger children to practice their reading skills.

Have them read picture books to you. Also have them read from recipes, grocery lists, joke books, and newspaper comic strips. Play simple family word games with your kids to help them develop confidence with words.


Creatively combine reading with meals and snack times.

Serve soup with a reading from Louse Ehlert's Growing Vegetable Soup, which tells how the vegetables in soup are grown. Read Marjorie Priceman's How to Make an Apple Pie, a tour of all the places around the world where apple pie ingredients come from—then let your child help you make a pie. Serve breakfast, lunch, or dinner with a mealtime rhyme from Hot Potato by Neil Philip.


Involve family members.

The next time you Skype with grandparents or aunts and uncles, encourage your young child to read to them. Help your child choose a book that he or she can read with confidence.


Publish family book reviews on the Internet.

Start a family blog site, and let each member of the family post brief book reviews, lists of favorite books, trips to the library, photos of book covers, stories about author visits at school, and other book-related postings. This is a way of teaching children to think deeply about the books they read.


Feed your children's interests with magazines.

Our son was a sports fanatic, so we gave him a subscription to Sports Illustrated Kids. Our daughter was fascinated with animals, so we got her a subscription to Ranger Rick, published by the National Wildlife Federation. Any subject that motivates your child to read is a good subject.


Read the book, see the movie, and discuss.

Take your kids out for ice cream or smoothies and discuss the film and the original book. Some conversation starters: How was the movie different from the book? Why do you think the filmmakers made those changes? Which did you like better, the film or the book—and why? What was the moral of the story? Who was your favorite character? What would you have done differently if you were the author or filmmaker?


Encourage your children to adapt their favorite books to other mediums.

Kids enjoy making drawings, collages, and dioramas based on characters and events in their favorite books. Suggest they create plays or puppet shows and perform them for friends and family.


Sign up for email announcements of library events.

Take your children to story times and author appearances at your local library. Encourage your children to view the library as a fun and friendly place—a place where the shelves are lined with wonders and adventures.


Encourage your child to write and illustrate a book.

Your child will learn what it's like to be an author by making up a story and writing it out to share with others. That experience will enrich your child's appreciation of books.

Encouraging a child to read requires commitment—a commitment of your time, your attention, and yourself. I can't think of any other commitments in life that could be more rewarding for both parent and child. As someone once said, your children won't remember you for the material things you gave them; they'll remember knowing that you cherished them.

Jim Denney is the author or co-author of more than 100 books, including the Timebenders science fantasy adventure series for young readers (Battle Before Time, Doorway to Doom, Invasion of the Time Troopers, and Lost in Cydonia). He is also the co-writer with Pat Williams (senior vice president and co-founder of the Orlando Magic) of Leadership Excellence and Coaching Your Kids to be Leaders. Follow Jim on Twitter at @WriterJimDenney. He blogs at Jim Denney's Timebenders.
More Ideas to Get Your Kids Reading
Here are some more ways to encourage your children to read and enjoy learning.