This post may contain affiliate links. Read my disclosure policy here.
Well, maybe I'll see the lucky three of you who just won a pair of Burn the Floor tickets:
#7 Jackie M (at aol.com)
#36 Lisa at CT Coupon Chic
#50 Kari
If you didn't win, I still highly recommend this fun, high-energy show (here's the link to my Burn the Floor review if you missed it a couple of weeks ago). And guess what? I have another recommendation for you too.
This weekend, my husband and I had a fun getaway in New York City to celebrate his big 4-0. Even though we are local, and he works there every day, we still love to stay overnight when we can to really soak up the energy of the Big Apple.
We stayed at Le Parker Meridian hotel, and had brunch at Norma's, which was as good as I had heard it was.

Friday night we saw Rock of Ages, the 80's-themed show based on the music of Journey, Whitesnake, Bon Jovi, Night Ranger and more.
When we were in the ticket line, I saw a sign warning about the use of strobe lights, which is not unusual, but also one stating that some scenes might be inappropriate for viewers under age 14. Now that was a bit unusual. I've seen lots of shows, and never seen that warning before, even though the material is not usually strictly PG.
Shortly into the show, I could see (and appreciate) the purpose of the warning. This show is not for kids. Think about the 80's glam-rocker lifestyle — girls, partying, etc. That is what was depicted, as well as women in costumes throughout the show that looked like they came out of a trashy music video.
That said, the adults who were there loved it. I'd easily say that this is the funniest Broadway show I've ever seen. Part of it was shock value, "I can't believe that they are doing/saying that!"; part of it was nostalgia as we heard the familiar refrain of an 80's rock ballad that was going to fit perfectly in the plot; and the main reason was the great comic timing and the hilarious dialogue.
This is not just a musical showcase or a cover band performing. Just like Mamma Mia, the songs work to tell a story: two young people who came to the Sunset Strip to try to "make it big."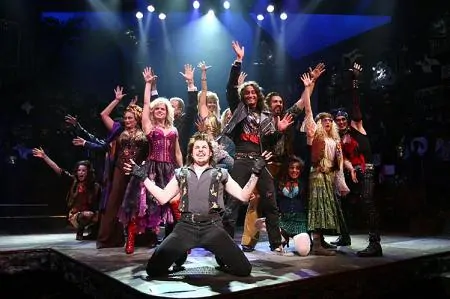 The Act I finale to "Hear I Go Again" by Whitesnake was fabulous (or to use dialogue from the show, it was rad). Everyone was clapping in time — concert-style hands over head — and grinning and singing along. See that guy standing in the center with the black T-shirt? That's Constantine from American Idol (and forgive me, but I'm not an AI fan, so I'm completely objective here): he was incredible! He was nominated for a Tony award for this role, and I second that nomination.
After that rousing number, I overheard people talking at intermission: "This is SO fun. I didn't think it would be so much fun!" and "I want to see it again, for sure."
So while the humor, language, and rock-star lifestyle references make this show unsuitable for kids or teens, if you are a fan of 80's hair bands, or if — like me — you came of age in that era, I can highly recommend Rock of Ages for a great time.

Do you love Broadway shows as much as I do (see my complete list of Broadway shows and mini-reviews). This is NOT a contest, but I'd love you to take the time to leave a comment with some of your favorite Broadway experiences (and catching a tour of a show as it comes to your hometown definitely counts).
I also want to let you know that we are hoping to give away tickets to a brand new show in October or November. Keep your eyes on our feed.
Written by 5 Minutes for Mom Contributing Editor and 5 Minutes for Books Managing Editor Jennifer Donovan. Since she lives in Connecticut, she's thrilled at the opportunity to represent 5 Minutes for Mom at New York City area events, such as this one.