This post may contain affiliate links. Read my disclosure policy here.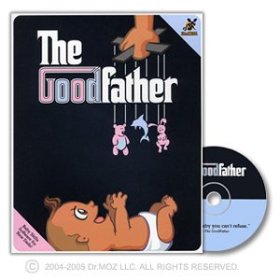 Here's a fun gift idea for new dads… It's called The GoodFather and it's the brainchild of one of our "daddy" readers, Jason Baxter – aka Dr. MOZ.
"The GoodFather gift CD-ROM by Dr.MOZ teaches new and expecting dads baby skills with interactive lessons set to a fun mobster parody."
They even have GoodFather t-shirts for the new daddy to show off his new status around town.