This post may contain affiliate links. Read my disclosure policy here.
Jenny, 5m4m contributor shares her insights into the Flatwave Amped through this review and giveaway. We were compensated to write this post and provided product for review and giveaway, however all opinions listed are our writer's own.
We gave up cable a long time ago in order to save money, as have many other families on a budget. However, there are often shows, news, or events (such as the Olympics) that rekindle ones desire for access to television. Television antennas are often used to provide a few channels without the cost of cable. The Flatwave Amped seems to be at the top of the line.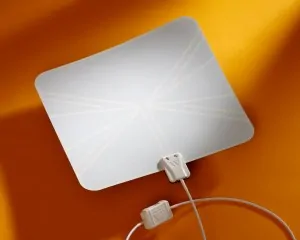 My family purchased a simple rabbit ear style antenna for our home last summer. We were able to receive a few channels, that is if we set the antenna on a chair in the kitchen and angled the rabbit ears just-so. Although it worked well enough, it was not convenient or attractive.
Recently we were given a Flatwave Amped. It is a slim, flat antenna that can be plugged into your television via a USB cord or cable connector.  There are numerous ways to set up the Flatwave amped indoor antenna. You can lay it on your TV cabinet, attach it to a window, or hide it behind your television and attach it with the command strips that come with the product.
We chose to attach the digital antenna to the wall behind our television.  I love that it can't be seen.  I don't like to see wires all over the place and this over-the-air antenna is extremely streamlined. The other bonus is that the picture comes in great. We even have access to more channels than we did previously.
About Flatwave Amped
Is designed to provide near Blu-Ray® image quality
Ensures viewers can receive every broadcast program because of its dual band technology
Has a reception range of broadcast TV signals that reaches 50 miles
Is great for rural to large communities where signal towers are further from homes
Is a two ounce, 13 in. by 12 in. razor thin indoor antenna
People who use the FlatWave Amped will also enjoy digital sub-channels (i.e. 9.2) that carry local school events, sports and entertainment not always available on cable. This is another reason why you can supplement or replace your current cable or satellite providers.
This HDTV antenna can save families, on average, $1200 a year by removing the cost of cable. Some of the channels accessible through the digital antenna are ABC, CBS, NBC, FOX, PBS, Qubo, Ion, The CW, and Universal Sports. If you have been considering canceling your cable and saving money, the Flatwave Amped Antenna is the way to go.
Enter to win
One reader is going to get their chance to win a Flatwave Amped television antenna for their home! Use the Rafflecopter form to enter this giveaway. New to Rafflecopter? Watch this 45-second video on how to enter!
How would this product help you out?

  Hi! I'm Jenny! I blog at www.thesweetstuff.blogspot.com all about my home, family (husband and sweet baby girl), being a mom, crafting, cooking, my faith in God, and more. I love the outdoors, living in a small town on the Central Coast and being a mom!