This post may contain affiliate links. Read my disclosure policy here.
Our blogging friend Robin Farr is sharing tips to tackling boredom in kids.
Of all the things kids complain about – "I'm hungry!", "I'm so bored", and "He hit me!" – "I'm so bored" has to be my least favorite. In my house, boredom is usually accompanied by mischievousness (actually, "I broke it" is probably my least favorite declaration) and is the one thing that can cause me to sigh and hold my breath at the same time. So let's talk about how to tackle boredom in our kids.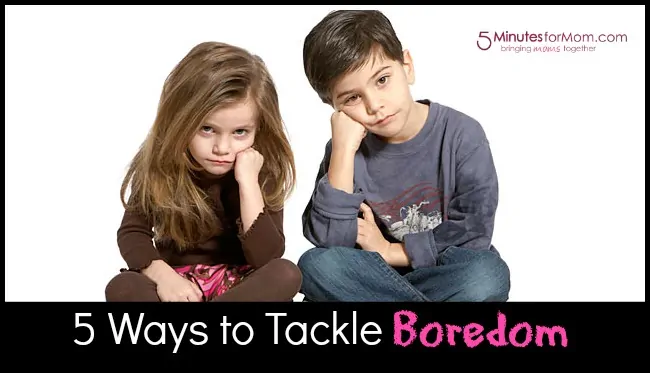 Give them Chores
A very traditional approach to the words "I'm so bored" usually begin with a parent handing her child rubber gloves and a scrub brush. While kids hate this method, it has been proven useful in getting them to find another form of words to use. It will also help teach them how to clean and give you a break (just kidding — but this method does work to some extent even though kids hate this approach).
Use what you've got
Many young children — toddlers and babies, can basically play with anything and this will relieve their boredom. Mother and blogger Kristin from Two Cannoli suggests using sensory play with stuff you already have in the house. Smelling and identifying spices works well for this, she says.
If you have a Tupperware drawer, more than likely, your toddler will find this form of entertainment the most amusing. If you want a moment of sanity, I say "go for it"!
Water is another good go-to game when you're running out of ideas. Angela Amman, of AngelaAmman.com, has two kids who can always be entertained with water. Outside, inside, in bathing suits in the bathtub – if you've got water (and maybe a mop) you can generate all kinds of free entertainment.
Jumpstart their imaginations (without them knowing it)
Sometimes, all kids need is that proverbial (and metaphorical) kick in the pants to get their imaginations going. The oft-quoted joke about why we bother buying toys when the cardboard box they come in seems to be more fun is true. Look around and see what you can find for them to play with. The last time I gave my son a big box it turned into a spaceship. He had a blast (no pun intended) and I enjoyed seeing his excitement as he built it.
Bring toys out of hiding
Boredom is also a good opportunity to remind your kids about all the toys they never play with. My four-year-old plays with Legos all the time, so when he declares he's bored I start listing off the other options buried deep in the toy box. Those are the days that he rediscovers those long forgotten and buried toys.
 Keep some activities up your sleeve (or in your closet)
All parents, I think it's safe to say, occasionally reach a point where they just want their kids to play quietly for a while without needing an activities director. I keep a stash of new toys hidden in my closet – just small things, but something that's guaranteed to buy me half an hour on days I really need it. It's a small price to pay for about 5 minutes of uninterrupted time.
What are your best strategies for dealing with boredom?