This post may contain affiliate links. Read my disclosure policy here.
Memorial Day Weekend may be the unofficial start of summer, but the month of May begins a month long celebration for the mother of all cook-out foods: the burger.  With the number of grills fired up over the long weekend, it's no surprise May is designated National Hamburger Month.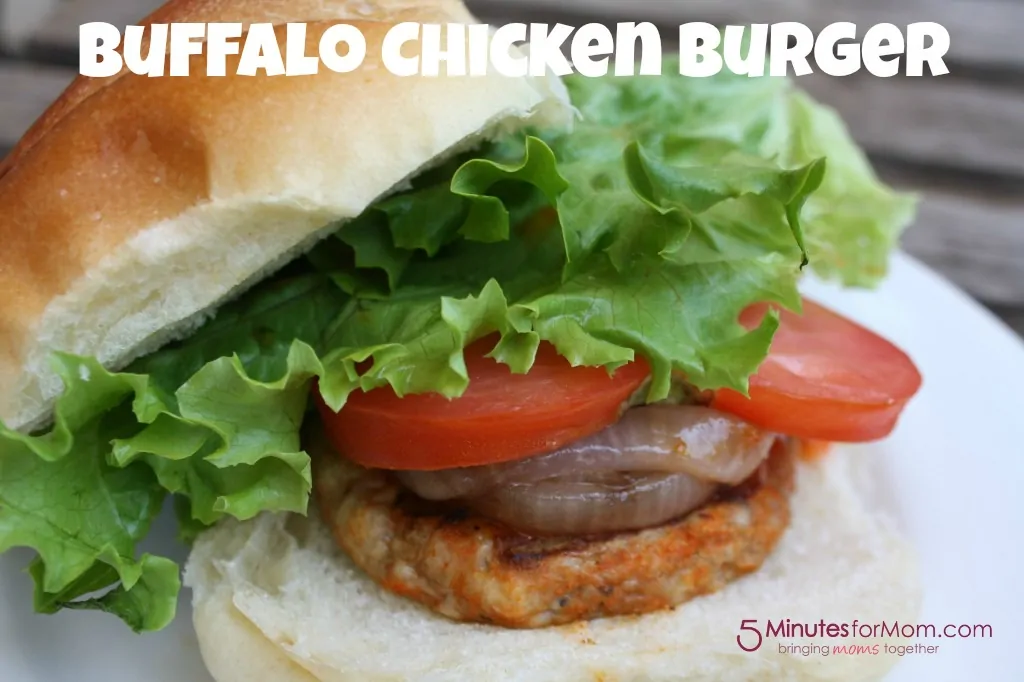 The cheeseburger with melted cheddar, a charred beef patty with lettuce and tomato trimmings, represents a true American classic that most crowds flip over.  Add some bacon or some sautéed burgundy mushroom sauce and a slice of Swiss cheese and the classic reaches a whole new class.
During National Hamburger Month, why limit yourself to tradition?  Live outside the bun and explore some tasty non-traditional burger choices.  Go the healthier route and substitute your beef burger with some lean ground chicken.  Prepared the right way, a chicken burger can be almost as juicy as a beef burger.
For example, one of my favorite non-traditional, non-beef burger is the Buffalo Chicken Burger.  Even with lean ground chicken, this burger needs no filler such as the typical chicken burger fillers of breadcrumbs or old-fashioned rolled oats.  Simply adding some Frank's Hot Sauce to ground chicken marinates the chicken and produces a juicy patty that won't dry out on the grill.
While the chicken burgers char and get happy on the grill, toss some sliced red onions onto the grill.  Grilled onions add just the right sweetness to the spiciness and add a little pizzazz to the usual burger toppings.
Of course, I like my Buffalo Chicken Burger the same way I like my wings with some extra Buffalo sauce.  A sprinkle of reduced fat blue cheese compliments the spice and finishes off the Buffalo sauce.  This month, fire up those grills and keep your summer hot but your waistline swimsuit slim with some Buffalo Chicken Burgers.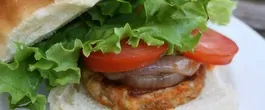 Ingredients
1 lb – 99% lean ground chicken
½ cup Franks RedHot Sauce divided (two ¼ cups)
1 Tbsp butter
¼ tsp garlic powder
1/8 tsp turmeric
1/4 tsp salt
1/4 tsp black ground pepper
Red onion sliced
Leafy lettuce for topping
Slice ripe tomato topping
Reduce fat crumbled blue cheese
Instructions
To prepare Buffalo sauce, combine ¼ Franks RedHot Sauce, butter, garlic powder and turmeric in saucepan on low heat. Stir and heat through until butter melts. Remove from heat and set aside.

Knead salt and pepper evenly through ground chicken. Then. divide the ground chicken into six parts and form into ½ inch thick patties approximately 4 inches in diameter.

Place patties into 9 x 11 baking pan and pierce with fork. Pour ¼ cup hot sauce over patties and marinate for 5 minutes or while grill heats.

Grill chicken burgers for two minutes each side.

Brush sliced red onions with canola oil and grill five minutes each side.

Serve chicken burgers on rolls. Drizzle Buffalo sauce over burgers. Top with reduced fat blue cheese crumbles, lettuce, tomato, grilled onions.