This post may contain affiliate links. Read my disclosure policy here.
I am not sure who ate more sweets this Christmas – my son or me. But I do know that the one reason I am relieved when the New Year hits is that we can get back to our regular eating habits.
What about you? Do you indulge over the holidays? Are you looking for ways to improve your family's diet?
If this New Year you want to ensure your family is as healthy as possible, the Dr. Sears team has come out with a new book that might be the perfect way to start your year. I know that I am thrilled to have found it.
Although our family eats pretty well, I definitely miss the days when I could feed my son meals full of pureed vegetables. Now as he gets older, things can be a bit more challenging. And with our busy schedule – I find myself desperate for ideas about how to keep us all eating healthy foods.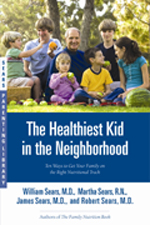 The Healthiest Kid in the Neighborhood
– Ten Ways to Get Your Family on the Right Nutritional Track is full of important information and useful strategies, tips and recipes to transform your family's diet.
The Dr. Sears team will give you both the motivation to improve your family's diet and the information and helpful tips on how to do it. The ten steps are laid out chapter by chapter, blending science and practical application, such as what foods you want to be feeding your family and what ones you should avoid, and how you can help your children to not overeat.
Whether you are looking to lose weight yourself, help your child lose weight, or just make sure you are all eating the right foods and have a healthy eating lifestyle, this book will have get you off to a great start.
Now I am off to eat my high fiber cereal…