This post may contain affiliate links. Read my disclosure policy here.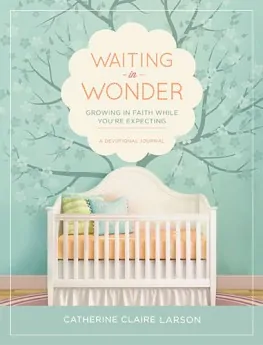 5 Minutes for Books staff reviewer Carrie offers up her thoughts of a devotional for mothers-to-be. She received an advanced copy for the purposes of this review.

Anyone who has ever been pregnant knows the amazing wonder of discovering that there is a little life growing inside of you. Anyone who is trying to become pregnant is aching to feel that wonder for they know that it exists and there is hope for it. Being the carrier and bearer of new life is an amazing privilege and one that should not be taken for granted. A beautiful being is being developed inside of a woman! Incredible!
Despite the incredibleness of pregnancy, an entire range of emotions can be experienced by a pregnant woman and this new devotional – Waiting in Wonder
: Growing in Faith While You're Expecting – is designed to walk the expectant mother through those emotions and prepare her for life as a mother.
Author Catherine Claire Larson believes that God created life and women to bear it in a beautiful and miraculous way and she longs for the expectant mother to believe this also. She writes in her Introduction:
"God has chosen you for a sacred calling: to nurture a particular soul, exquisitely unique and immeasurably important. Our Father in Heaven has handpicked you to mother this exact child, the one who began as a single cell, the one whose very odds of existence boggle the mind, and the one who will be so strangely like you and yet to strangely different."
Waiting in Wonder
is a devotional book which includes short thoughts, verses for the new mother to begin memorizing, points to ponder and praise the Lord for, and plenty of room to journal one's own thoughts as they embark on this journey.
If you, or someone you know, is the type to think deeply over the seasons and changes in life and who are preparing for the monumental change of motherhood, this is definitely a book worth looking into.
I am delighted to say that the publisher, Thomas Nelson, has offered up two copies of this book so that two of you can win. Follow the instructions in the rafflecopter below, starting off by leaving a comment answering the question "What was your favorite or least favorite thing about being pregnant?"
Carrie blogs about books regularly over at 5 Minutes for Books and ReadingtoKnow.com.