This post may contain affiliate links. Read my disclosure policy here.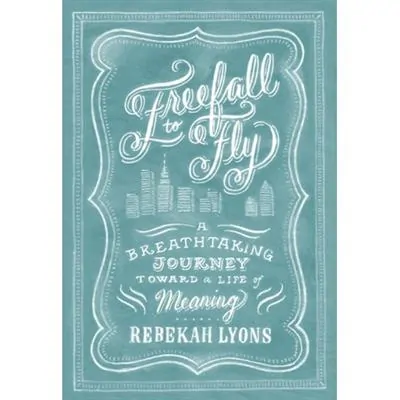 Jennifer, 5 Minutes for Mom's assistant, shares her insight into Freefall to Fly in this giveaway. This is a compensated post and she received a copy of the book but her opinions are her own.
I love books that come from a personal journey. When I first opened Rebekah's book, my eyes were glued to the pages. I found myself nodding in agreement when she would share about her panic attacks.
I would wipe the tears away as I read about her fears for her family. In fact, I remember thinking to myself, "This book hits way to close too home."
In Freefall to Fly Rebekah shares about her move from comfort and friends to New York, where she basically had to start all over again. With a special needs child and a growing ministry, life can sometimes overwhelm us. As moms, we have all been there.
About the book:
Women today are fading. In a female culture built on Photoshopped perfection and Pinterest fantasies, we've lost the ability to dream our own big dreams. So busy trying to do it all and have it all, we've missed the life we were really designed for. And we are paying the price. The rise of loneliness, depression, and anxiety among the female population in Western cultures is at an all-time high. Overall, women are two and a half times more likely to take antidepressants than men. What is it about our culture, the expectations, and our way of life that is breaking women down in unprecedented ways?
In this vulnerable memoir of transformation, Rebekah Lyons shares her journey from Atlanta, Georgia, to the heart of Manhattan, where she found herself blindsided by crippling depression and anxiety. Overwhelmed by the pressure to be domestically efficient, professionally astute, and physically attractive, Rebekah finally realized that freedom can come only by facing our greatest fears and fully surrendering to God's call on our lives. This book is an invitation for all women to take that first step toward freedom. For it is only when we free-fall that we can truly fly.
Watch this video from Author Rebekah Lyons
Give yourself permission to freefall — and trust that someone will be there to catch you and to help you fly.
Enter to win
3 readers are going to get their chance to win a copy of Rebekah's book. Use the Rafflecopter form to enter this giveaway. New to Rafflecopter? Watch this 45-second video on how to enter!
 So — what is a defining moment in your life? What would you consider your freefall moment?