This post may contain affiliate links. Read my disclosure policy here.
This post has been submitted by Lauren Kim.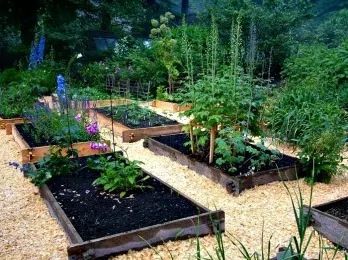 If you're a mom like me, you'd love to start a backyard vegetable and flower garden, but aren't sure how to begin because the ground where you want to dig is too hard or because you don't have the tools needed to properly till the soil.
This was exactly my situation and I wanted something that my daughter and I could do together. I decided to create a raised garden bed in our backyard for our vegetables and flowers.
Creating a raised garden bed is a great way for moms and families to build a backyard garden, since it's fairly quick and easy. To begin my raised garden bed, I ordered a Farmstead Raised Garden Bed kit from Eartheasy.com. The kit was a wonderful choice for me, because they are crafted from non-toxic Vermont White Cedar (so no there are no harmful chemicals that can leach into our vegetables) and are easy to put together.
To build my two Eartheasy raised garden beds, all I had to do was slide the pieces together without the use of any tools – putting my backyard's two raised garden beds together took me all of about 15 minutes for each bed! After laying down some landscaping fabric to prevent the growth of weeds, I added a few inches of topsoil to my garden beds. Newspaper and cardboard can also be used to prevent weed growth.
Springtime Vegetables
To launch our garden this year, my daughters and I planted some pea seeds a few weeks ago. Peas need to be planted in the spring, since they prefer the cooler weather. I checked the garden recently, and thankfully, some of our peas have already begun to sprout! My daughters really love planting peas – they eat them fresh off the plants in the summer.
Now is a great time in my New Jersey location to sow carrot and broccoli seeds, so my kids and I may give those a try. Shortly, it will be the time to plant tomato plants in my area. We've had luck with those in the past, so I may be picking up a few tomato plants from our local garden store soon.
Have you started your spring garden yet?
About Lauren Kim
Lauren Kim is the executive editor of Mom Home Guide, a website for moms on creating the perfect home for one's family. A mom to two daughters, she mostly blogs about home décor, DIY projects and crafts. You can follow her on Facebook and Twitter.