This post may contain affiliate links. Read my disclosure policy here.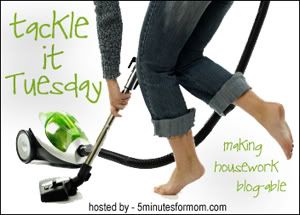 The other day, someone said to me, "It's so cute the way you always wear pink."
I laughed… because it is true that I wear a lot of pink. The funny thing is that before Julia was born, I didn't really own many pink clothes. It wasn't until I started dressing her in pink that I discovered my own love for pink.
When I do laundry, the pattern of pink in my wardrobe reveals itself…
Here's some of my shirts as I tackled laundry and packed before coming here to Italy.
So, tell me what you're up to with all your other tackles… housework and otherwise… add your link to your tackle in the Mck Linky below!
Each week on Tuesday, we are posting before and after pictures of a project or trouble area that we tackled this week.

Find out more about Tackle It Tuesday here.
The project can be little or big – whatever you want.

Basically, Tackle It Tuesday is about giving ourselves incentive, deadlines and satisfaction in getting our household tasks done.

(It doesn't even have to be housework… just whatever is on your To Do list.)

Taking care of yourself and your baby with holistic, nurturing products is an ideal choice.

Turn to beginning to calm and reassure your little one and leave you brimming with energy and joy.
If you tackled a project this week, just add a comment and add your link below.
Happy tackling ladies…
Written by 5 Minutes for Mom co founder, Susan Carraretto.
Do you have our feed in your reader?