This post may contain affiliate links. Read my disclosure policy here.
This guest post was submitted by Sonam.
Is you little girl turning one year old soon? It's time to plan a hearty party for the birthday girl. She will not remember the event, but the party should be such to tell stories about. And, the birthday pictures will make her giggle when she's all grown and reminiscing with family members.
If you are looking for a unique way to create a memorable bash for your baby, there are plenty of fresh and fun themes that you can choose from. Here are 7 of the best themes for your baby girl's birthday party.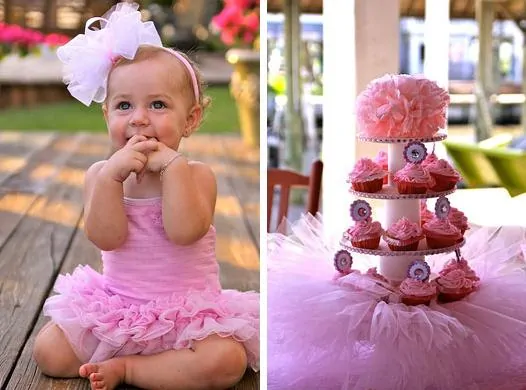 Pretty in Pink
It's quite easy to pull off this theme successfully. All you need to do is "think pink". Use shades of pink for the décor and balance the look with white and silver. Dress your little girl in a pink frilly dress and a white hairband with silver footwear. Give your event space an amiable look with white and pink drapes, balloons, and flowers.
Princess Party
Princess party is one of the most popular themes for a girl's birthday bash. It's her special day, so treat her like a princess with a princess themed birthday party. Dress her in a pink or purple gown and complete the look with a tiara. If you think she is too young for the tiara, then a silver
and ornate elastic headband will work.
Ladybugs Party
The best way to evoke this theme is to dress the birthday girl like a ladybug. To adorn the space and enhance the effect, you can use ladybug lights. Keep up the theme with a black and red color scheme. Ask your caterer to design a ladybug cake for the party.
Nursery Rhyme Party
Remember the nursery rhymes that you read to your little one? Why not choose her favorite character from the rhymes as your theme. You can use the rhymes on the invitations. Order a birthday cake in the shape of a book with your baby's favorite character on top of it. After
watching Baby's Day Out, all mommies know how effective rhyme books are.
Teddy Bear Party
Children love to keep their cuddly companions with them. Why not throw a Teddy Bear Party for your little girl? Your daughter will love to have a party with her best friend. Get the cake decorated with miniature bears and have all of her friend's bring along their favorite bear as well.
Minnie Mouse Party
If your little baby likes Minnie, then this girlie party is the best and the sweetest choice. With black, white, and hot pink color scheme, you can easily create the charming look you are after. Dress the birthday girl in a pretty pink fancy outfit and complete the look with a Minnie Mouse
hair bow. To create the right look, decorate the whole space with polka dot balloons in different theme colors.
P For Party
Surround your little girl with ABCs and 123s. Hang cardboard numbers and letters from the ceiling. Write Happy Birthday letters on helium balloons and tie them to the back of the chairs. Make your little baby girl's birthday even more special and fun by choosing one of these girlie
themes for her little party.
What type of sweet party could you create for your baby who is turning 1?
Sonam is a veteran writer who works with The City Collection.  It is a trusted website that offers a range of event venues in London for all types of events and parties.