This post may contain affiliate links. Read my disclosure policy here.
Today, The Dr. Oz Show premiered. But since I am on the pacific coast, I haven't seen it yet! It is on at 3 pm over here — but I will have to set my TiVo since I have to go pick up Jackson from school.
But I am curious — did YOU watch it? Are you planning on watching it?
Personally, I am excited about Dr. Oz getting his own show. I think he is a great source of information and inspiration for improving and maintaining our health.
I rarely get time to watch TV, but I am planning on setting my TiVo and watching some episodes when I am able.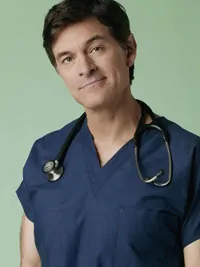 If you are wondering who Dr. Oz is, he is Dr. Mehmet C. Oz, best known as the health expert on The Oprah Winfrey Show.
The Dr. Oz Show, which premieres today, Monday, September 14, 2009 is co-produced by Harpo Productions and Sony Pictures Television (SPT) and distributed by SPT. It will be a multi-topic, multi-segment health and wellness talk show.
I was on a conference call with Dr. Oz today and we had a chance to ask him our questions. I asked him about his opinion on vaccinations and specifically about the Swine Flu (H1N1) vaccination.
He said that tomorrow's show is specifically on the Swine Flu and that live on the show he will receive a Seasonal Flu vaccination. He will have experts on tomorrow's show who will discuss the Swine Flu vaccination and he is waiting for more information that is to be released in the coming weeks before he decides what he will recommend to his family about the Swine Flu vaccination.
When answering another member of the media on a question about helping Americans improve their health, Dr. Oz made a statement I don't think I will ever forget.
He said, "Your kids will treat themselves the way you treat yourself." That hit home for me! With sound bites like that, I think checking in on the Dr. Oz show may really inspire me to continue trying to live a healthy lifestyle not just for myself, but for my children!
Written by 5 Minutes for Mom co-founder, Janice Croze.