This post may contain affiliate links. Read my disclosure policy here.
This month is National Pet Care Month and Cham from "Eat Ur Banana" is sharing her tips for caring for your pet.

Having a pet is one huge responsibility. You've probably heard this from everyone who has a family pet. It's true. Anyone who has experienced having a pet in their household can surely attest to this. Some may even find it almost equivalent to having a baby. After all, a pet is a living thing, with needs and wants which, in some way, may be similar to us. With all these needs and wants come costs incurred throughout your
pet's life.
Have no fear. Having a pet in your home does not necessarily mean that you'll need to burn a hole in your pocket every single time. Here are some helpful tips on how you can enjoy the benefits of having a pet without busting your budget.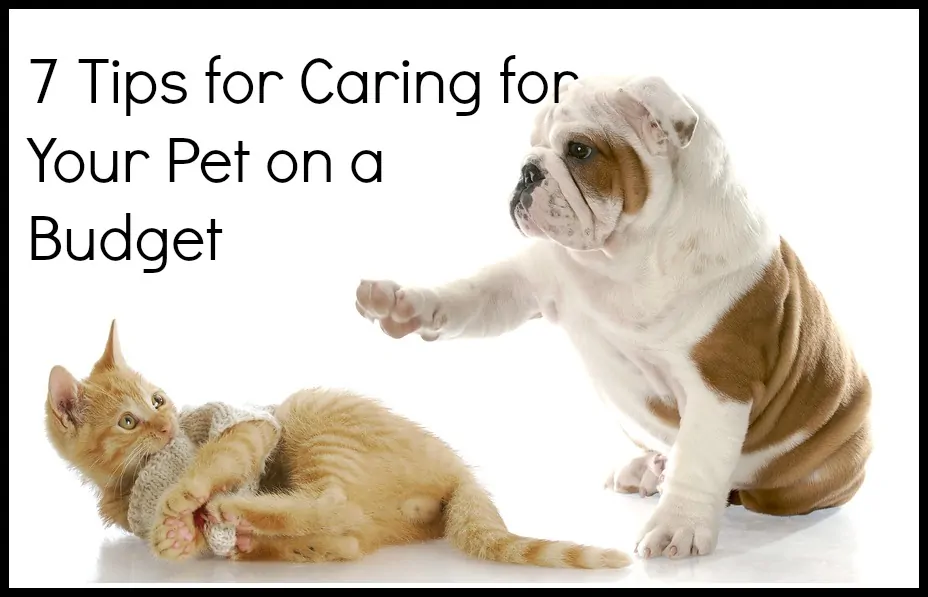 Adopt a furry friend instead of buying one: While it is truly very tempting to bring home that adorable puppy that is happily wagging its tail from the pet shop window, try to think of all the homeless animals in your local shelter. Surely, one of them will be forever grateful if you find it in your heart to adopt them into your family. Plus, the costs associated with adopting a pet will definitely be less than what you will be cashing out on a purebred purchase.
Go for natural, homemade food: Once you have your pet, the first concern you will probably have is the food that it will be needing. It sounds very convenient to simply get any of those commercially manufactured pet foods from the supermarket but unfortunately, this isn't an ideal long-term plan. Some dog and cat foods contain ingredients which can actually be harmful for your pet, as their bodies are unable to process these. Going for natural, homemade pet food may actually save you from future medical expenses and of course, spare you and your pet from the heartache when it becomes ill. When preparing food for your pet, it can be helpful to ask yourself: How similar is this food from what my pet will be eating in its natural habitat? The closer it is to what's in the wild, the better.
DIY grooming works wonders: Having your pet professionally groomed can cost you  a lot of money, cash which you can actually spend for other necessities your family may have. Set aside a few minutes each day to brush your pet's fur or give it a nice bath. This is a simple way to save money and a great way to spend quality time with your pet too.
Think before you buy pet gear: There are a lot of ways with which you can entertain pets aside from buying toys for them. In fact, you may even end up disappointed, if you buy a fancy plaything for your pet and then find it lying abandoned in a corner after just a few hours. Cats, for instance, can appreciate simple toys and games such as dangling strings and laser pointers. Dogs, on the other hand, will find it very enjoyable to play fetch or to accompany you on your next jog.
Maintain cleanliness at all times: Generally, a lot of diseases may stem from having a dirty body and a grimy environment. Giving your pets regular grooming sessions and cleaning up their living spaces as often as possible can contribute a lot to preventing illness from developing, not only for your pet, but for everyone in your household. Now you don't have to worry about those hospitalization bills.
Find environment-friendly choices for pet supplies: Same as food, it is also a good idea to go green in choosing supplies for your pet. For example, baking soda is a good deodorizer for your pet on its no-bath days and can be used for cleaning its living areas as well. The crushed leaves and extract of the Gliricidia tree can be used to treat mange in dogs. Soil which has been used to fill up your cat's litter box can be reused for your garden.
Choose your vet wisely: Not all veterinarians are created equal. Some are genuinely concerned with caring for your pet's welfare but still, there are other who are simply after your money. Before you bring your pet to the vet, do your homework and conduct your own research. This will help you in asking the right questions and for the doctor to be able to address your concerns more accurately. Also, in choosing your vet, it would be wise to ask your trusted friends for their honest feedback and recommendations, preferably those who are already caring for their pets.
Indeed, bringing a pet into your life is not easy. It is something that one should not venture into without preparation, including anticipation of expenses linked to it. With proper planning and by choosing frugal and practical options for pet care, you and your family will get to enjoy the benefits of  having a furry little friend in your home without breaking your bank account.
What tips do you have for caring for your pets frugally? We would love to hear them!