This post may contain affiliate links. Read my disclosure policy here.
Janice here… Last year I traveled to Jamaica with the Jamaican Tourist Board. Visit Jamaica and the Jamaican Tourism Board covered my expenses for the press trip. I did not receive any additional compensation for my posts and, as always, my opinions are my own.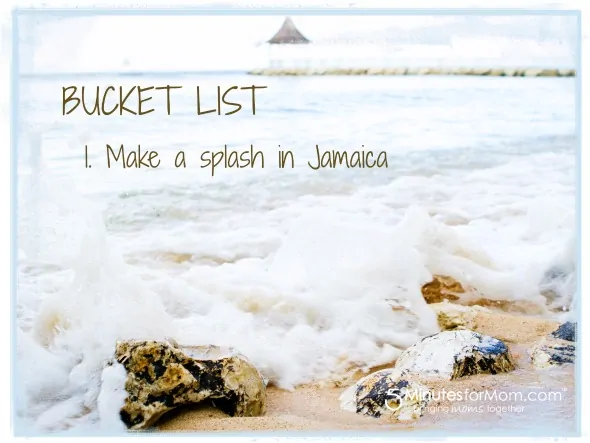 If there were only one sunshine destination I could ever revisit, I would choose Jamaica.
Today, as the pacific northwest clouds fight to hide away the sun, I am dreaming about the Jamaican sun…
In September, I was fortunate to visit Jamaica for a blogger press tour with the Jamaica Tourist Board.
And, as one does after discovering paradise, I have spent every day wanting to return.
Jamaica is vacation perfection. It has it all. From its endless sunshine, to its relaxed vibe, to its rum spiked tropical drinks, to its soft sandy beaches and clear blue water — what more could a girl want?
I can tell you, this girl wants Jamaica back, badly.
Jamaican Hot Spots — Get Out That Bucket List
The Jamaican Tourist Board did a great job of cramming as many Jamaican highlights into our short visit as possible. Here are my top three favorite activities that you definitely do not want to miss when your travel plans lead you to Jamaican paradise…
Rick's Cafe — Cliff Jumping Included!
Everyone needs to jump off a cliff into the Caribbean ocean. Albeit I chose the easiest, lowest, jumping point available, I jumped off a cliff into the Caribbean!
When in Jamaica, you simply must visit the iconic Rick's Café. You can indulge in some rum drinks while you take in the view — after you jump off the cliff a few times of course.
And, don't take a cab to Rick's Café. No, the best way to get to Rick's Café is via catamaran. You can have a TON of fun with Island Routes Reggae Catamaran Cruise that leaves from Sandals Negril Resort. That is how we arrived at Rick's Café, jumping into the ocean for a swim over to Rick's.
Swim with the Dolphins
I have always been in love with dolphins. What is it about dolphins that makes us just want to jump in and swim with them?
On your Jamaican vacation, make sure you take time to swim with some dolphins. It is bucket list time people!
Dolphin Cove is a gorgeous location and guests are given lots of time in the water interacting with the dolphins. The staff is fun and informative. And the dolphins love to play and even steal a kiss.
Authentic Jamaican Jerk Chicken
A stop in Jamaica means you get to taste authentic Jamaican jerk chicken — and you will be craving it forevermore. This tender meat, spiced with a dry rub and then cooked to perfection, Jamaican style, is a staple in Jamaica.
We had a chance to try true Jamaican Jerk Chicken at the famous Scotchie's restaurant in Montego Bay. Scotchie's is a local favorite that our PR guides brought us to and I am so grateful. It was a delicious treat — and I paired it with some Caribbean Coke!
Where to Stay In Jamaica — All-Inclusive Beaches Negril or Half Moon Resort
While we were in Jamaica, we had the chance to stay at two fantastic resorts — the family orientated All Inclusive Beaches Negril and the stunning resort Half Moon, A Rock Resort.
Beaches Negril Resort & Spa
Beaches Negril was voted the World's Best Hotels for Families in 2012 by Travel + Leisure — and that is just one of their many top destination awards. After staying at this fun, laid back, all inclusive resort and spa in Negril, I am not surprised they are scooping up the travel awards.
Beaches Negril offers a "Beach Vacation for Everyone" with their lush 20 acres resort on Jamaica's famed Seven Mile Beach, their beautiful gardens, the sprawling Pirates Island waterpark, tons of activities and amenities for the whole family, and my personal favorite, their luxurious Red Lane Spa.
If I were bringing my family down to Jamaica, Beaches Negril would be at the top of my list. I love the savings and convenience of an all-inclusive resort and Beaches Negril has done a fantastic job of creating a resort that fulfills everyone in the family's dreams. Oh if I only I were there right now…
Half Moon, A Rock Resort
I have never experienced anything quite as spectacular as the Half Moon Resort in Jamaica. It is unimaginably beautiful — truly paradise on earth. It is no wonder it is even a favorite with the Royal Family!
This 400-acre luxury resort is simply stunning with pristine whitewashed cottages, gorgeous sprawling gardens and endless white sand beaches. I loved the striking contrast of bright white buildings against the crisp blue Caribbean sky and ocean.
Half Moon has 197 guest rooms and suites and 31 private villas with sizes ranging from four to seven rooms. We had a chance to visit a villa and have breakfast served to us on the private pool deck. If only I could live there. It is absolute perfection.
For their guests, Half Moon also has their renowned Fern Tree Spa, an 18-hole signature golf course, a Dolphin Lagoon, fitness center, and an equestrian center, (you can ride along the beach!) Half Moon in Jamaica is the epitome of Caribbean luxury — I couldn't recommend it more highly!
Choose Jamaica!
If you are trying to decide where to head for your next vacation, take it from me, choose Jamaica! Whether you are taking your kids, heading for a romantic getaway, planning a girlfriend's getaway, or building your dream destination wedding, Jamaica will bring your dreams to life and you will never want to leave…
written and photographed by Janice Croze, co-founder of 5 Minutes for Mom
Please Note: Visit Jamaica and the Jamaican Tourism Board covered my expenses for this press trip. I did not receive any additional compensation and my opinions are always my own.