This post may contain affiliate links. Read my disclosure policy here.
Update: Thank you to all of you who joined our #Zambezia Twitter Party. We had a blast!
To join an upcoming Twitter Party or have us host one for you, find out more about Twitter Parties here.
This post is being sponsored by Sony Pictures. All opinions are 100% are own.
For as long as I can remember, my husband and I have looked for ways to teach our children life lessons from the movies we watch. Sometimes they are positive life lessons — because the character is good and noble, and then there are times that the life lessons we have taught them have been from the negative aspects(showing them how bad behavior affects everyone), because the character was an evil villain.
Now that my kids are older and on the verge of being grown, it's nice to watch them walk away from a movie thinking about scenes that they could apply to their lives. As parents, how can we manage that? That is exactly what we will be discussing in our next Twitter party!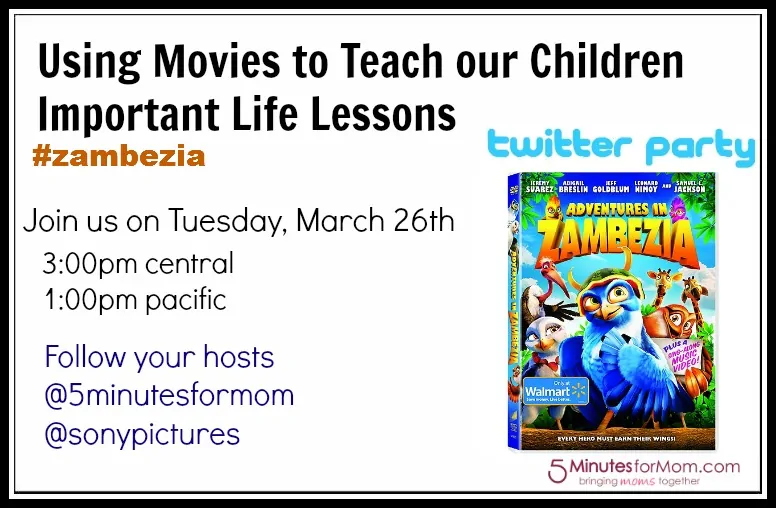 We will be having a Twitter party on Tuesday to celebrate the release of another great family film. Available exclusively at Wal-Mart,
Adventures in Zambezia
is full of great life lessons that we can teach our children — ones that will stay with them for years to come.
When a spirited young falcon named Kai (Jeremy Suarez, TV's "The Bernie Mac Show") learns of Zambezia, the fabulous city of birds, he leaves his remote country home against the wishes of his father (Samuel L. Jackson). But when his dad is captured by an evil lizard who plans to attack the city, Kai must learn the importance of teamwork if he's to rescue his father, save his new friends and help keep Zambezia lizard free. Samuel L. Jackson, Abigail Breslin, Jeff Goldblum and Leonard Nimoy give voice to this beautifully animated fun-filled adventure the whole family will enjoy.
Party Details
Date: Tuesday March 26th, 2013
Time: 4pm eastern time/3pm central time/1pm pacific time
Hashtag: #zambezia
Party hosts to follow: @5minutesformom and @sonypictures
Prizes:
We will be giving away 3 different prizes
2 secondary prize winners will win a $50 Wal-Mart gift card
1 grand prize winner will receive a $1oo Wal-Mart gift card
RSVP below if you will be joining us!
If you will be joining the party, RSVP below so we can follow you and party together. All prize winners will be pulled from this list.
This Twitter party is being sponsored by Sony Pictures. All opinions are 100% our own.