This post may contain affiliate links. Read my disclosure policy here.
Now that you know The Croods is a family film for the family (check out my other post), it's time to meet the family!  As attached as I have become to The Croods and their friends, I wanted to introduce you to them so you can fall in love with them too.  With the central themes mostly centering around family, DreamWorks Animation Studios has worked to create a family unit we can all relate to with familiar struggles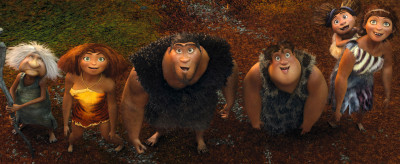 Family Ties
The themes of family ties, as well as shared conflicts and discovery, resonated with everyone connected with THE CROODS – from the filmmakers and the cast, to the studio executives.  "This film is DreamWorks Animation's first feature about a human family," Sanders points out.   "And during production, the project triggered so many great memories about family from members of our cast and crew – like, 'there was this time my brother did this to me,' or 'my dad was a lot like Grug' – things like that." 

Adds writer-director Kirk DeMicco: "Everyone can find an access point into the movie and relate to one or more of the characters and say, 'Oh, I know those people, even though they're not really like my family.'… But we all know they really are," he admits with a smile.

Producer Kristine Belson expands upon the idea that the Croods, despite having lived a long, long, long time ago, are not dissimilar to families today.   "Family is a universal thing. As much as technology and other things change, what was true about families, hundreds of years ago – thousands of years ago – a million years ago – is true today and will be in the future.  There are many of the same struggles, triumphs and dynamics."
So are you ready to meet the family?  Great!  Let's start with the main man, Grug.
Meet The Croods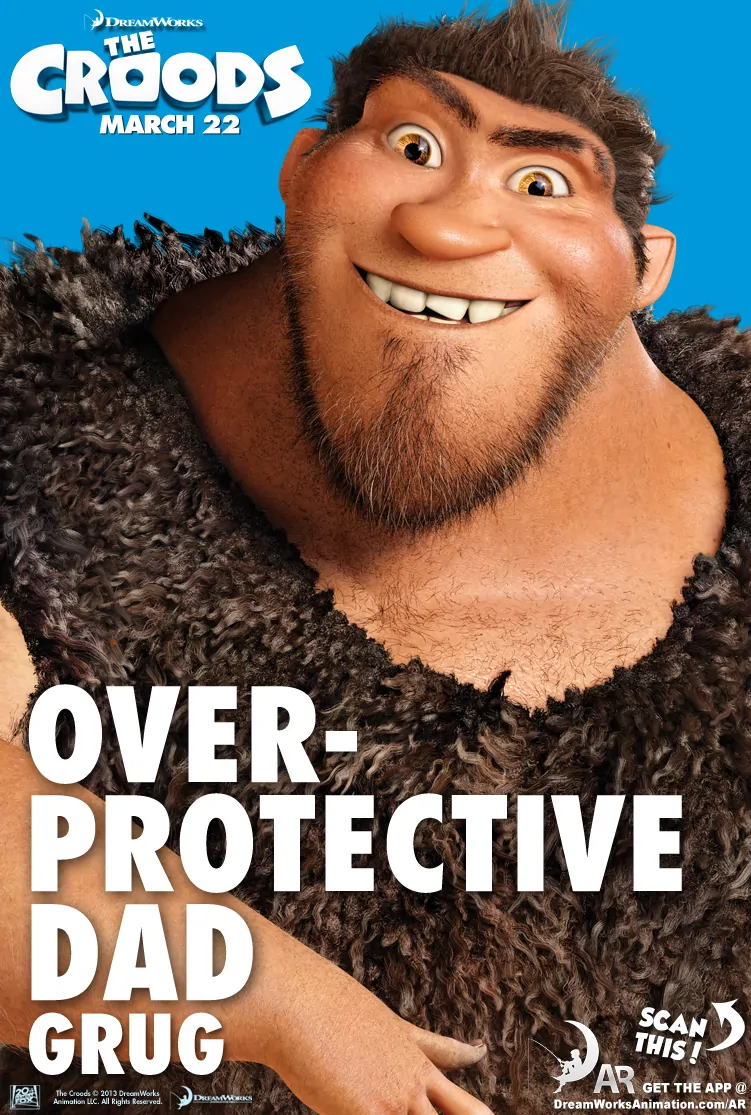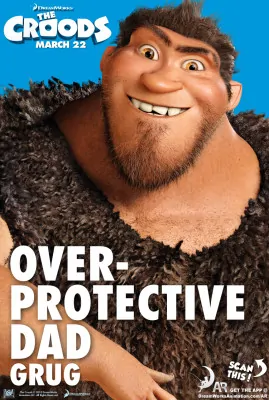 Protective father? Oh yes.  Grug is the first over-protective father.  In many ways he remind me of my own father…sheltering (I never once attended any type of "party" until I was in college), loving, and scared to death of any kind of change.  Poor Grug, because change doesn't come easily to Grug and there is a lot of change on his way.
Grug must learn the difference between surviving and living in order to keep his family truly safe. "Grug wants to keep his family safe, and that's not unexpected," adds Sanders. "But like all dads, he must learn to deal with the massive challenge of figuring out how to maintain control of his increasingly adventurous clan."
One of my favorite reoccurring themes throughout the movie were the "Grug-isms", among my favorites include "fear is good; change is bad," : "Anything fun is bad" and "Never not be afraid."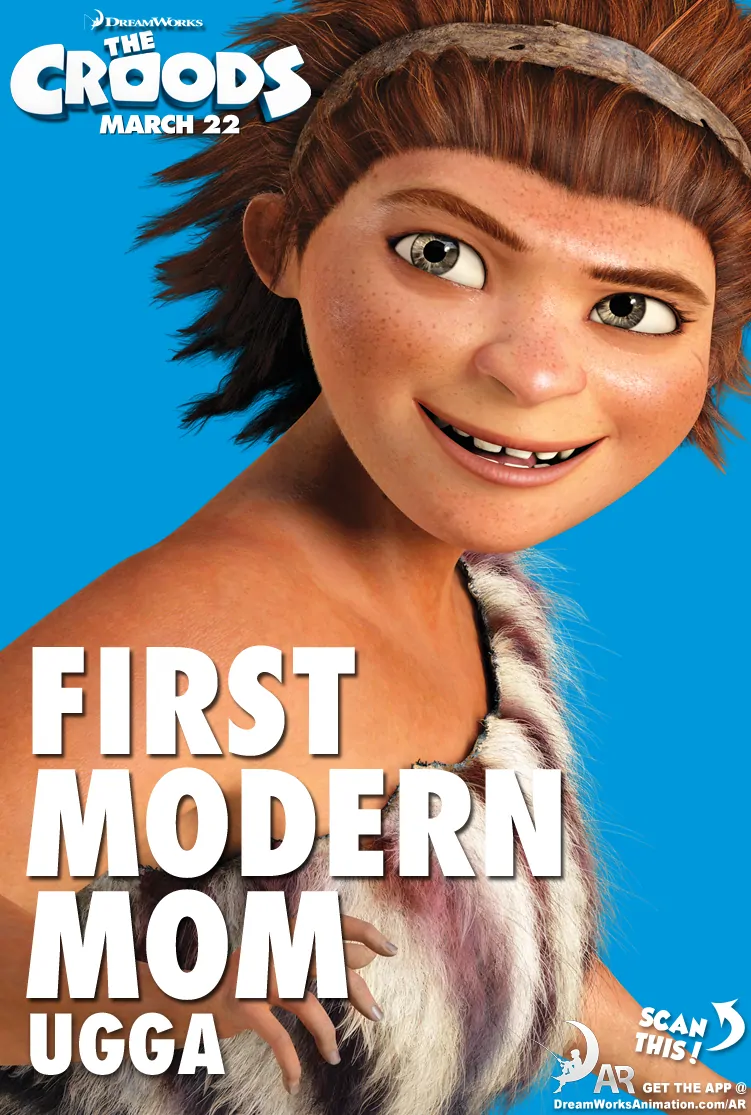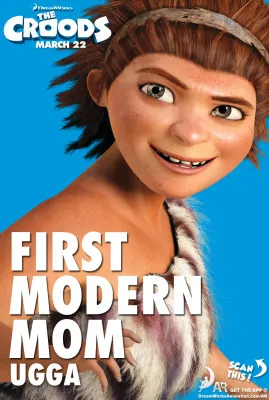 Supportive wife, understanding and beyond patient mom – Ugga is everything to everyone.  This is one mom who can hold her own with three crazy kids, an obstinate mother, and a bull-headed husband.  Ugga is the glue that holds the Croods family together.  A strong, loving, and kind mother, Ugga is down to Earth and perfectly capable of holding her own physically with Grug.
While also trying to stand up for her daughter, Ugga has always deferred to her husband's authority.  When the family must run for their lives, big changes come to their relationship.  "By the end of the story she's the one who tells Grug he must change his thinking," says Chris Sanders.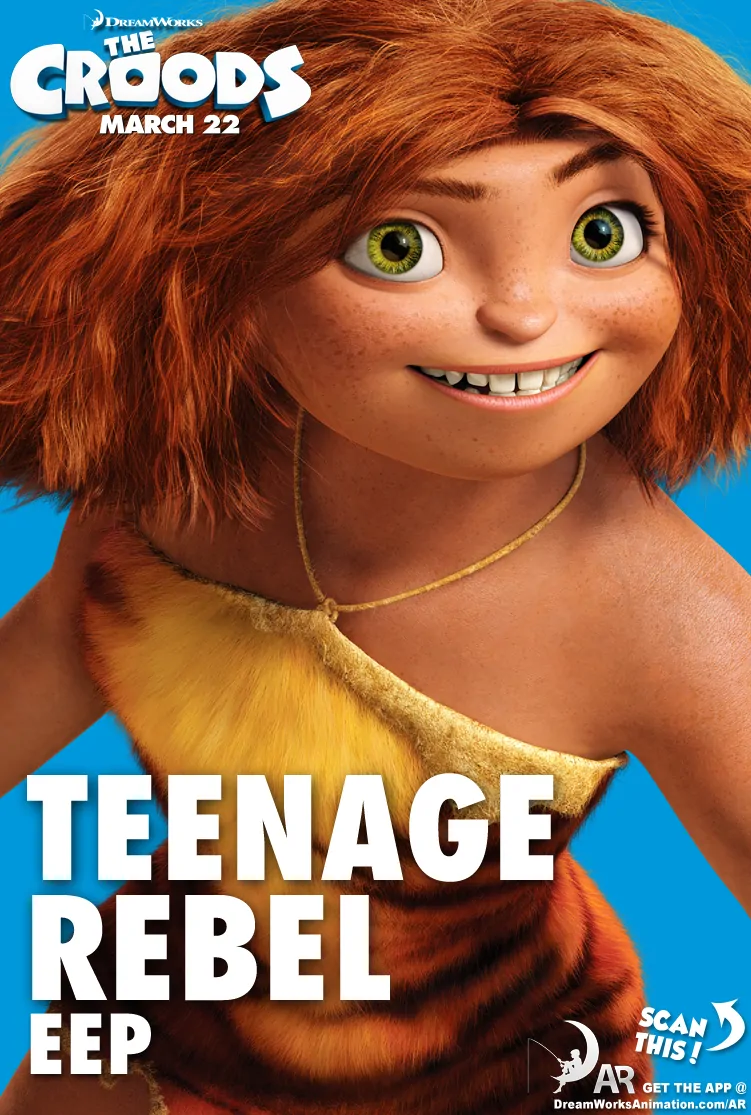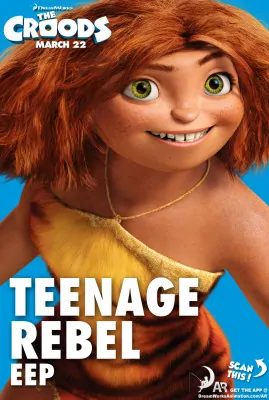 Strong willed and curious, Eep is the personification of a modern day teenager.  Eep is constantly embarrassed and annoyed by her entire family, but mostly her father (what daughter isn't?).  Eep's physical features are completely different from those of the "normal" heroines we see in most children's animated films.  Eep has a strong, densely muscled frame built to make climbing easier, she is the epitome of a strong and healthy woman.
The average teenage girl, Eep comes full of contradictions, snarky remarks, and heart palpitations caused by a cute boy.  "She likes that Guy is a free spirit, because she has that feeling within her as well," says Emma Stone.  He admires her spirit too, although at first she's a bit overwhelming — for example when the supremely able-bodied young woman slings Guy over her shoulder.  "Yes, she literally picks him up!" Stone exclaims.  "So it's understandable that Guy is terrified of Eep, at least initially, because she's so aggressive and tough."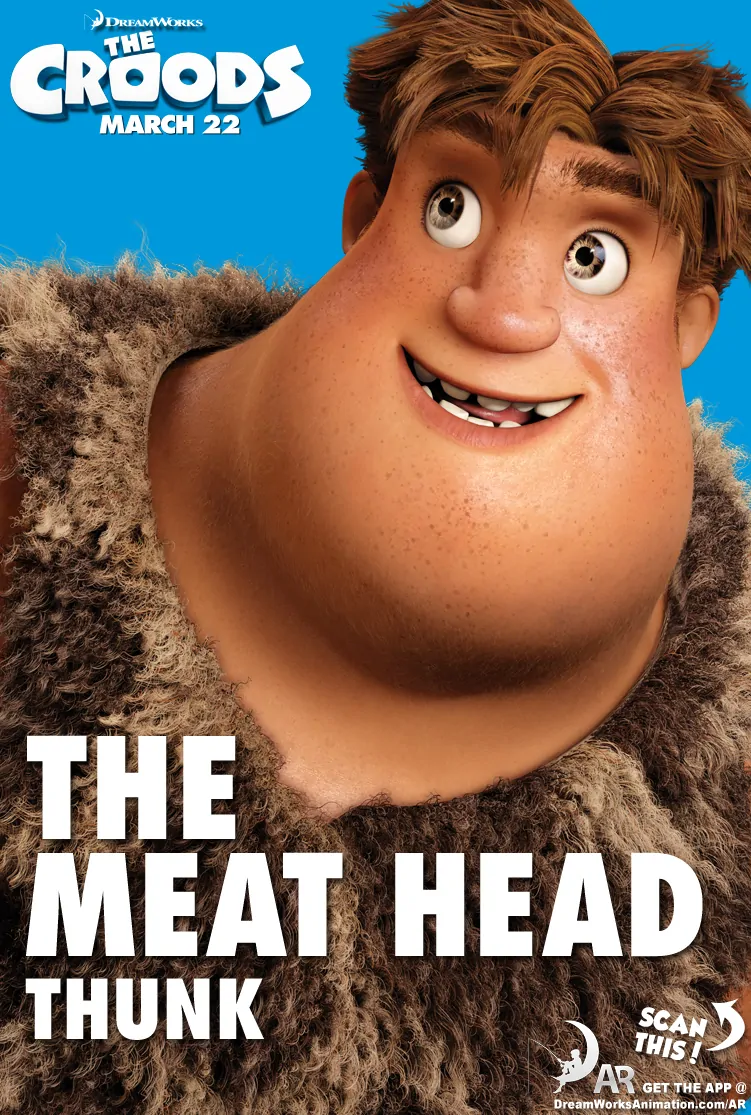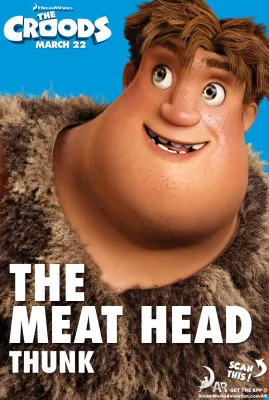 Goofy, lunkhead Thunk is desperate for her father's attention and approval.  At nine years old (and 6-feet, 3-inches tall, 280 pounds), Thunk just can't seem to get the hunting thing down pat.
"Thunk is always trying to impress Grug; he wants to be a carbon copy of his dad," says DeMicco.  "He has explosive energy and enthusiasm, but he's probably the most vulnerable figure in the family."  Over the course of the movie, Thunk slowly comes into his own – finding himself stronger and more capable than ever before.
As I mentioned earlier, Belt is adorable and Guy (played by Ryan Reynolds) is pretty cute as well…their mere presence makes a huge splash in the Croods' lives.  But the family isn't the only one in for some change, having been on his own for a long time, Guy is forced to learn how to interact with people and desperately wants to fit into a family.
Always thinking and using his imagination, Guy's inventive ideas ultimately expose all of the Croods to new possibilities and to a new world – a place, he says, that "has more suns in the sky than you can count, and where things are better."
Guy's only friend, his utility Belt is the first ever pet, the source of much laughter, and he's great at holding Guy's pants up!  An adorable sloth, Belt can't talk but his signature sing-song expression of doom – "Da-da-daaaaaaaa!" – speaks volumes.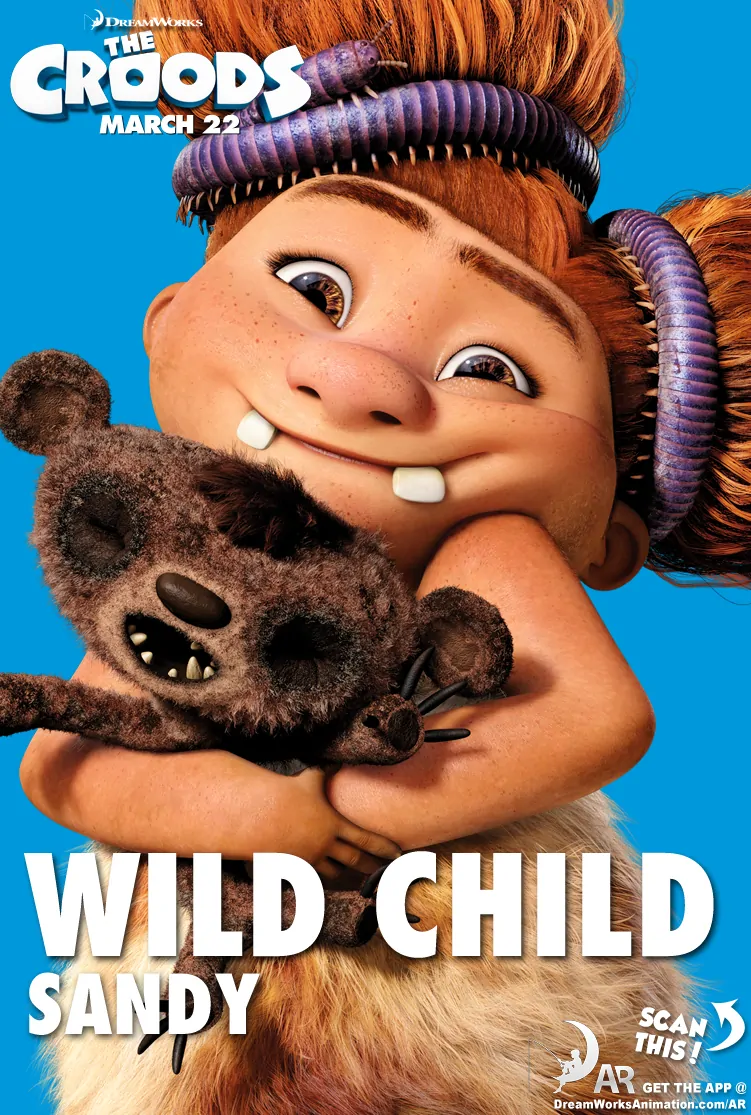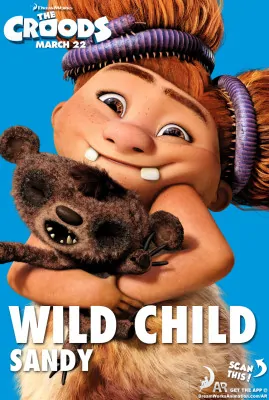 The youngest of the Croods, Sandy is the family's wild child.  In a dangerous world full of creatures trying to take a bite out of her, Sandy is not afraid to bite back and more like an animal than toddler.  Small and adorable, Sandy is an absolute handful…but she mostly listens to her father.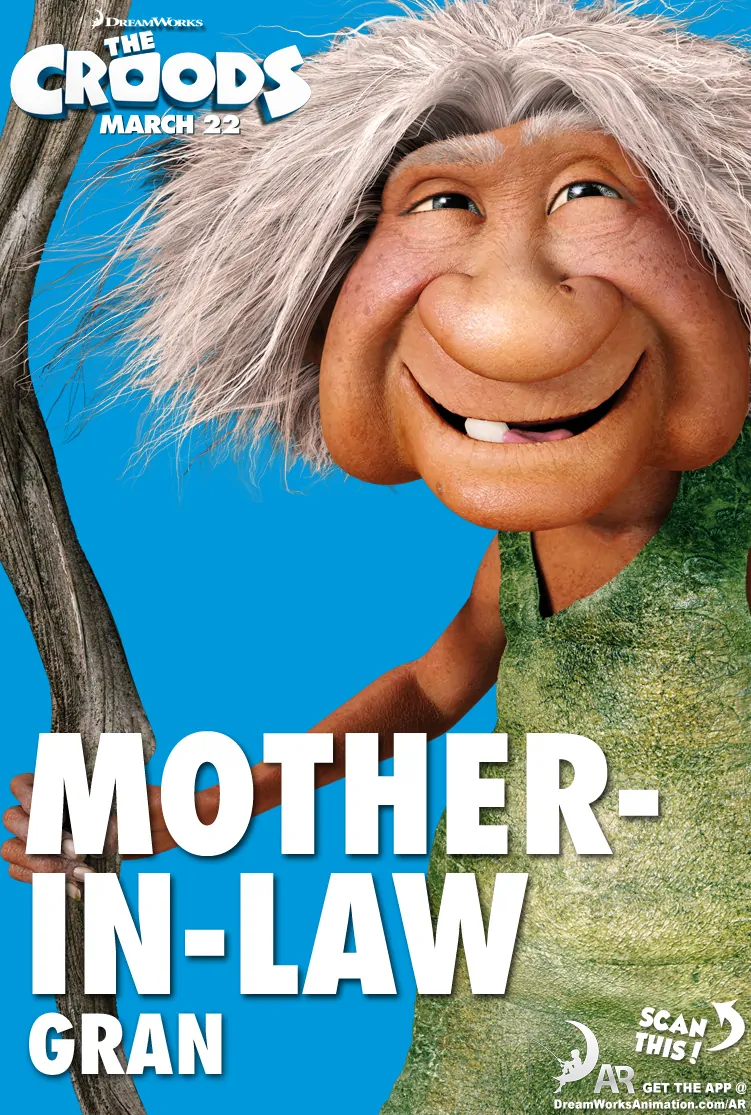 Gran  is Ugga's snarky and a little crazy mother, she's the forever thorn in Grug's side and a constant source of amusement for movie goers.  Ancient at age 45, Gran has survived it all and has lived to tell about it and while she rarely deigns to bestow it, Gran has amassed a lot of wisdom along the way.
Get to the know the Croods.
Visit the official website
Like The Croods on Facebook
Follow @DWAnimation on Twitter #TheCroods
Re-pin great DIY tutorials, printables & more from The Croods on Pinterest!
So that's the family, all the way from the parents to the accessories.  Who do you most relate to?