This post may contain affiliate links. Read my disclosure policy here.
The Post-Christmas Tackle…
Merry Christmas! I hope your day was blessed and beautiful. We had a wonderful time – it was just perfect!
And now it is back to business…
I don't like to wake up to a mess on Boxing Day. And although I never hit the malls for any sales – I am far too lazy and far too concerned about the money I just spent on Christmas – I still do not want to be cleaning!
But this year, instead of cleaning up after dinner, we went to a late movie! Susan and Rob babysat Jackson, and Phil, my mom and I went out! Crazy I know. So, now it is 1:30am and my house is not in order – nor have I got my tackle it post ready!
We did get most of the dishes done before we left – but we didn't clean up the toy chaos or tidy the kitchen. And to complicate matters, our kitchen sink plugged from the potato peels and we have to wash all our dishes in the laundry room! I sure hope we can find a plumber that is working this week. (Here is Sue helping with the dishes before we left for the movie.)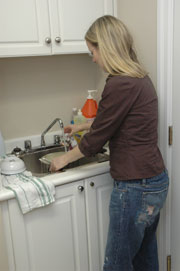 Once I finally get out of bed tomorrow morning – and I can assure you I will be sleeping in – I will tackle the house and get it back to its former glory.
So – here is a backwards tackle for you. I took this photo late last night after I put out the presents. Doesn't it look so fun with all the gifts!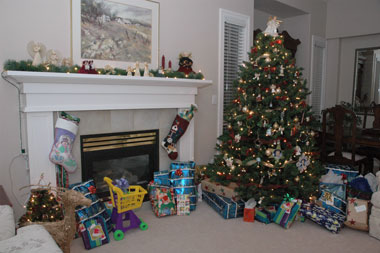 And here it is at the end of tonight. Believe it or not, we were tidying as the day went on, but as you can tell, we didn't do a very good job! Julia and Jackson just went from toy to toy and the mess grew.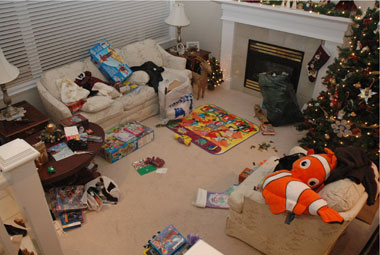 Tomorrow (or I should say, later today) I will be trying to find places for all the new toys. I am so glad I tackled Jackson's closet, because now I have lots of room in there. I just wish I had a great toy storage system in it.
So – tell us – how was your Christmas? Did you tackle all the clean up last night or are you tackling this Tuesday? Share your pictures or tell your stories if you are. We would love to have you join in the fun!
Join Us For Tackle It Tuesday

We're making housework blog-able!

Each week on Tuesday, we are posting before and after pictures of a project or trouble area that we tackled this week.

Find out more about Tackle It Tuesday here.

The project can be little or big – whatever you want. Basically, Tackle It Tuesday is about giving ourselves incentive, deadlines and satisfaction in getting our household tasks done.