This post may contain affiliate links. Read my disclosure policy here.
When it comes to quick snack ideas, eggs are one of the favorites for our family. They are relatively inexpensive and with the multiple ways you can prepare them, it's easy to keep them fresh in your mind and not boring.
One of our favorite ways to eat eggs is hard boiled. You can make them ahead of time and store in the fridge for a quick protein boost or you can jazz them up a bit and make deviled eggs. They are always so tasty and being bite-sized, they're easy to place on the table for that after-school snack, or when you're entertaining.
We all know and love the traditional deviled egg recipe, but there are ways to make even that recipe more exciting. I've made tuna salad deviled eggs before, but the green deviled eggs are one of my favourites. Adding the bacon and avocado not only gives it a great new taste and look, but avocado is so good for you.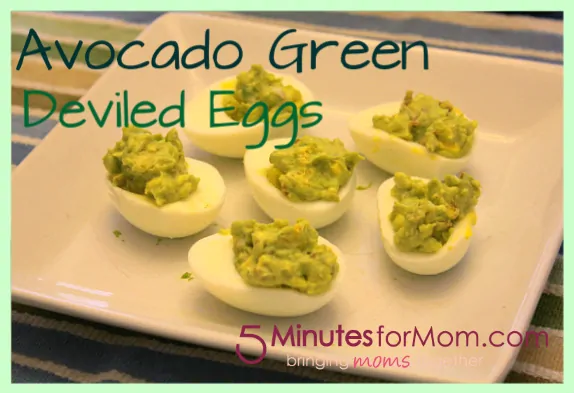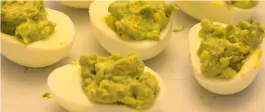 Ingredients
6 eggs
2 tablespoons mayonnaise
1 avocado
2 tablespoons bacon bits
salt and pepper to taste
Instructions
Place eggs in a pot of water and bring to a boil and cook for 10-15 minutes

Allow eggs to cool and remove shell then cut lengthwise

Remove the yolk from each egg into a separate bowl

In the yolk bowl, add the mashed avocado, mayonnaise, bacon bits and salt and pepper to taste mixing well together.

Spoon the yolk mixture into the egg whites, cool and serve