This post may contain affiliate links. Read my disclosure policy here.
The Great Tackle Continues…
That I have anything new to show you for this tackle is amazing in itself. Things are so crazy busy with the stores that my mom has pretty much given up on sleeping – seriously! She just went to bed now at midnight – she has been working straight since Sunday morning. She completely skipped going to bed last night – she just worked at her computer all night long, only getting up to go to the bathroom! She did the same thing last Thursday. And the other nights, she has been getting maybe three to five hours. It is not good, but when children are counting on Santa's sleigh to deliver their gifts in time, the elves have to work triple overtime!
Things have been made worse because Julia got sick last Thursday. She has been so ill and has kept Susan away from her desk. So mom is trying to do all of her work, plus what Susan would be doing. I try to help, but since I haven't been processing orders, doing customer service, etc, all year (I have been so busy with 5 Minutes and Faith Lifts) I am not nearly as effective as they are. But I have been trying to do what I can and help with Julia.
So, that is why I didn't have much time to tackle. (Nor to blog visit! – If I haven't made it to your Tour yet, I am so sorry – I promise I will get there soon.) But tonight I put in a few hours tackling, so I do have something to report.
First I will show you the pictures that I never got to post last week. I mentioned that I was going crazy going from room to room, cleaning out closets and under our bed. So here are a few of those areas.
Here is a before picture of Jackson's closet. I had intended on tackling this, so I had taken a picture a few weeks ago.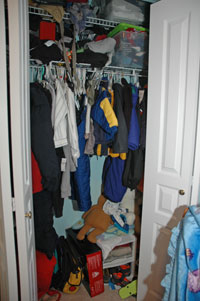 And here it is now. I sorted all his old clothes into containers and stored them in a closet in the basement. I will show you that area in my completed basement series (one day soon!)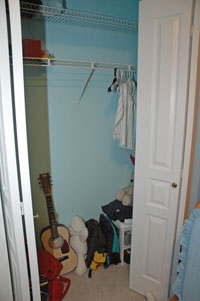 Next is the under my bed picture after tackling last week. The majority of the contents that had been in these containers I am giving to goodwill or I added to the containers of Jackson's old clothes I am storing in the basement. Now I have room for new stuff to accumulate!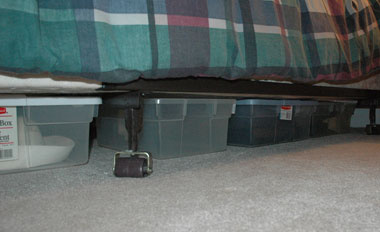 Now to what I did tonight.
Well, from the looks of this picture, it doesn't appear I did much. (This is stuff that either will go back into the storage room, or still needs to be sorted and recycled.)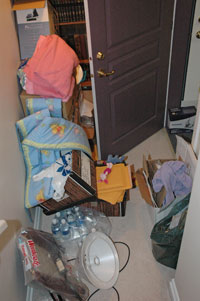 But here is the storage room as it looks tonight. It is taking many hours sorting through everything and deciding what to get rid of. I still have hours more to go.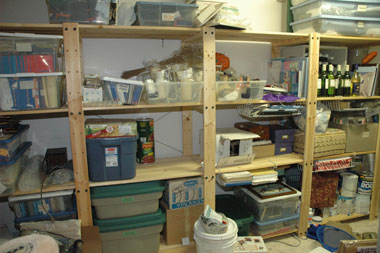 And here is the grand finale! I bagged up all the stuff I have sorted for goodwill. (We have a Christian mission that works in the downtown area that we always give our stuff to.) I gave away all my Dad's suits that we had been holding on to in case my husband ever needed something besides shorts to wear. (We decided others could get more use out of them.) I also gave away all Susan's old business wear, a bunch of clothes, etc of mine, old coats and sweaters, and some other misc. items from the storage room.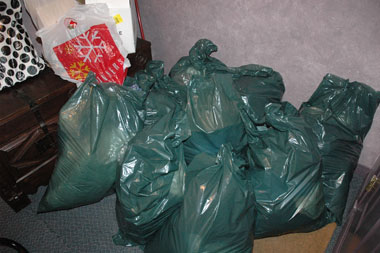 It feels so great to give away so much stuff. Some of it is really nice – I hope it finds its way to bless someone.
So that is where I am so far. I had hoped to have completed this tackle by Christmas, but I don't think that will be possible. It has a long way to go still. But it feels great to be making progress and I will not give up until it is done! 🙂
Join Us For Tackle It Tuesday

We're making housework blog-able!

Each week on Tuesday, we are posting before and after pictures of a project or trouble area that we tackled this week.

Find out more about Tackle It Tuesday here.

The project can be little or big – whatever you want. Basically, Tackle It Tuesday is about giving ourselves incentive, deadlines and satisfaction in getting our household tasks done.