This post may contain affiliate links. Read my disclosure policy here.
I remember seeing the preview for Safe Haven in the theaters and telling Frank that I really, really wanted to see that movie on Valentine's Day!  Who'd have thought I would have the opportunity to see it before it was even released in theaters.  I really liked the movie a lot and was even more excited to be meeting actors Julianne Hough and Josh Duhamel, author Nicholas Sparks, and musicians Colbie Caillat and Gavin DeGraw.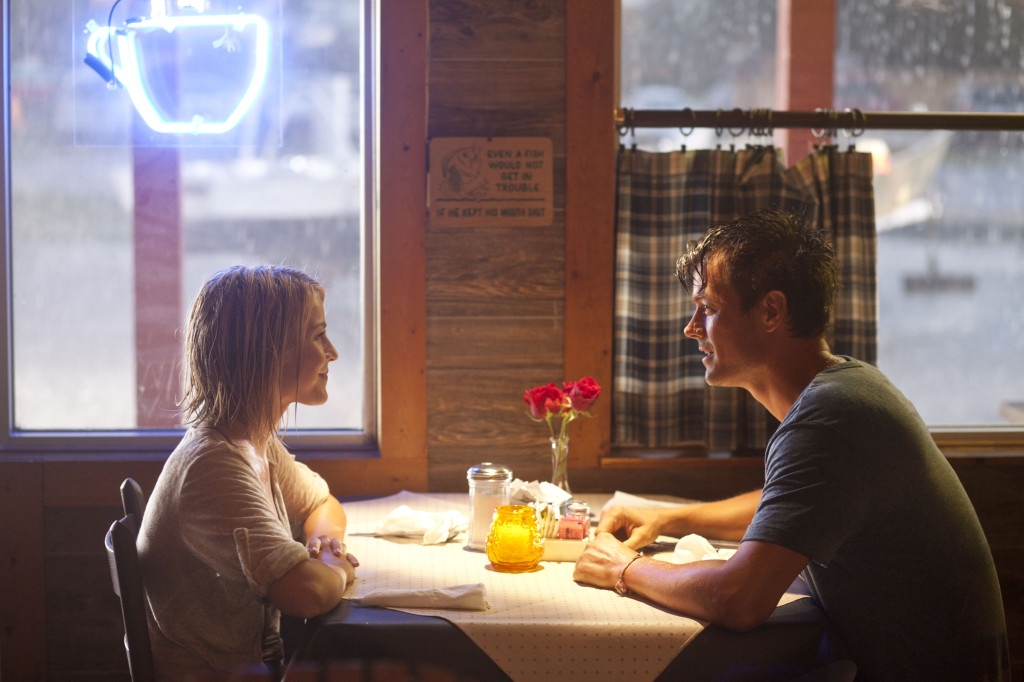 Watching the film was very emotional for me and I feel that Julianne Hough did an amazing job in her role.  She and Josh Duhamel just made the perfect couple for Safe Haven!  It was a memorable experience being able to sit with her at the round table interview with a few other bloggers and ask her about her experience in Safe Haven.  Here are a few snippets of the interview that I found the most interesting.
Julianne's Thoughts on Author Nicholas Sparks and Director Lasse Hallström from Safe Haven
Julianne:  "I thought this was, for so many different reasons, the greatest film that I could have done….because Nicholas Sparks is one of my favorite authors.  I've read all of his books….I've seen all the movies that have been adapted.
And, as I said before, I am the demographic.  So, to be part of a film like this was huge.  But, also working with Lasse (Director Lasse Hallström), one of the main reasons why I took the film was because of Lasse.  I knew that he is the most prestigious director I've worked with thus far, and I knew that he was going to push me and help me grow.
It was a struggle to get this part because nobody had really seen me do this before.  But, it was well worth the struggle, so I'm happy."
How Julianne Hough Prepared for Her Role and the Dark Spaces with the Nightmares in Safe Haven
Julianne:  "I actually visited some women's shelters.  I have friends, I have family, I've gone through things that I could pull from.  And also, you've had nightmares and dreams.  You know how you wake up from them.
But yes, it's a scary thing to be so vulnerable and have people see you in that way, but it's also very empowering, as well, not only for me but for people watching.  Unfortunately, it's a lot bigger of an issue than people realize.  And so, it's a lot of responsibility, and you want to do it the right way.
Julianne's Favorite and Most Emotional Scenes in Safe Haven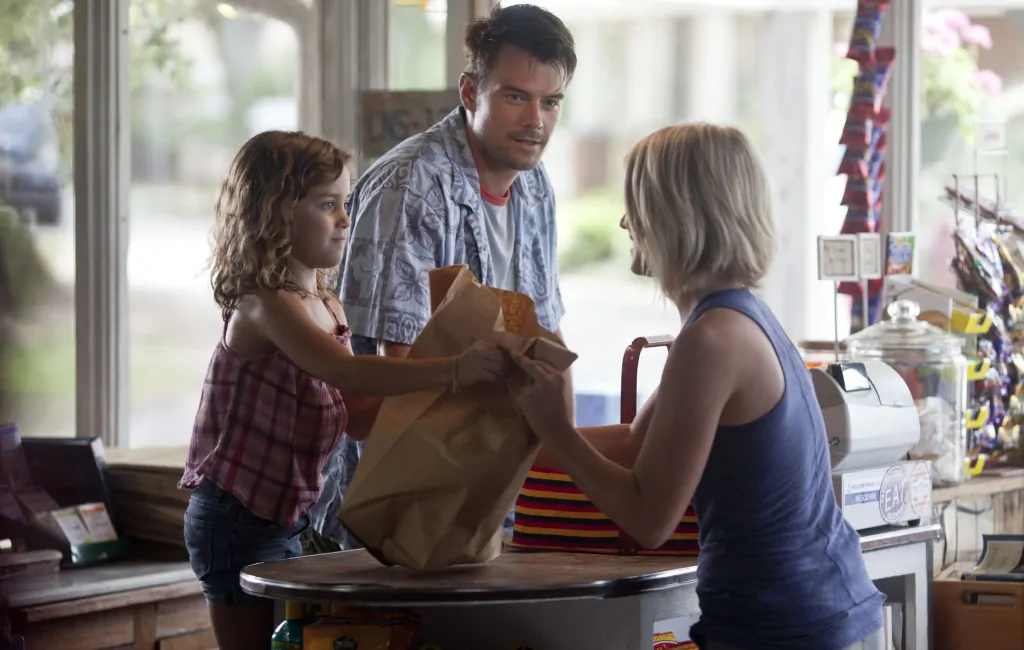 Julianne:  I love the scene when I meet Lexie (played by actress Mimi Kirkland) for the first time because the little awkward moments and everything that Lasse's so good at creating.  I loved that.
What's funny is both Josh and I were really reluctant to doing the little impromptu dance in the diner fish tackle shop.  We were really against it.  And then, it just kind of happened, and we both loved it.  It was one of our favorite scenes in the movie.
And I love the beach because that was all us just talking and playing in the sand.  And it was fun…it was really fun!
The most emotionally trying?  Oh yes, I can tell you exactly what it was….It was after I decided to stay, after leaving the ferry and going back to the house and basically explaining what it felt like to be in that kind of relationship.  That was a scene where Lasse just said, all right, there is not script in this [scene].  Just talk.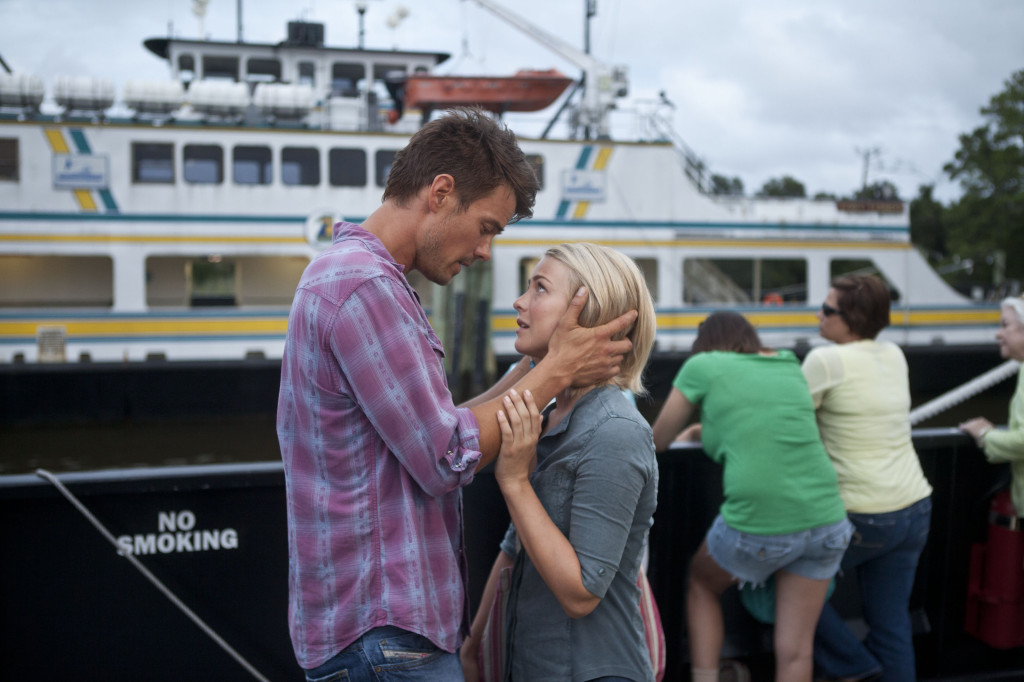 That was an 11-minute scene.  They didn't cut, and it went from laughing to crying to oh, I look really sexy right now and this is awesome and snot down my face, and then crying again, buth then holding it back.  It was a really intense scene.
My mom was in town, too, and so she got to see that, and she's like bawling at playback and stuff.  It was fun.  It was fun to watch that.
Julianne's New Shoe Line
Julianne:  "I'm a huge fan of Sole Society in general.  I just recently have been able to wear some incredible shoes.  So, I've never really had the budget in my past to have amazing shoes.
So, what I love about Sole Society is that they're super, super fashion forward.  A lot of these shoes from major designers that we've kind of created into our own but that are kind of in that perfect price range where, again they're fashion forward and more mature than maybe like a young teen shoe, but still in that good price range.  So, I love that.  They're really colorful!
And I think in general, not even just shoes, but things that I want to create.  I just want it to be authentic and a voice of who I am.  So eventually, I'd love to do a lifestyle line because most of the time I'm working out or dancing or hanging out at the house.
And then, shoes – again, I just think that it's kind of a representation of who you are.  And I love Sole Society because the designer and I who work together, she helps me bring out the color."
Julianne's Thoughts on Working with Josh Duhamel in Safe Haven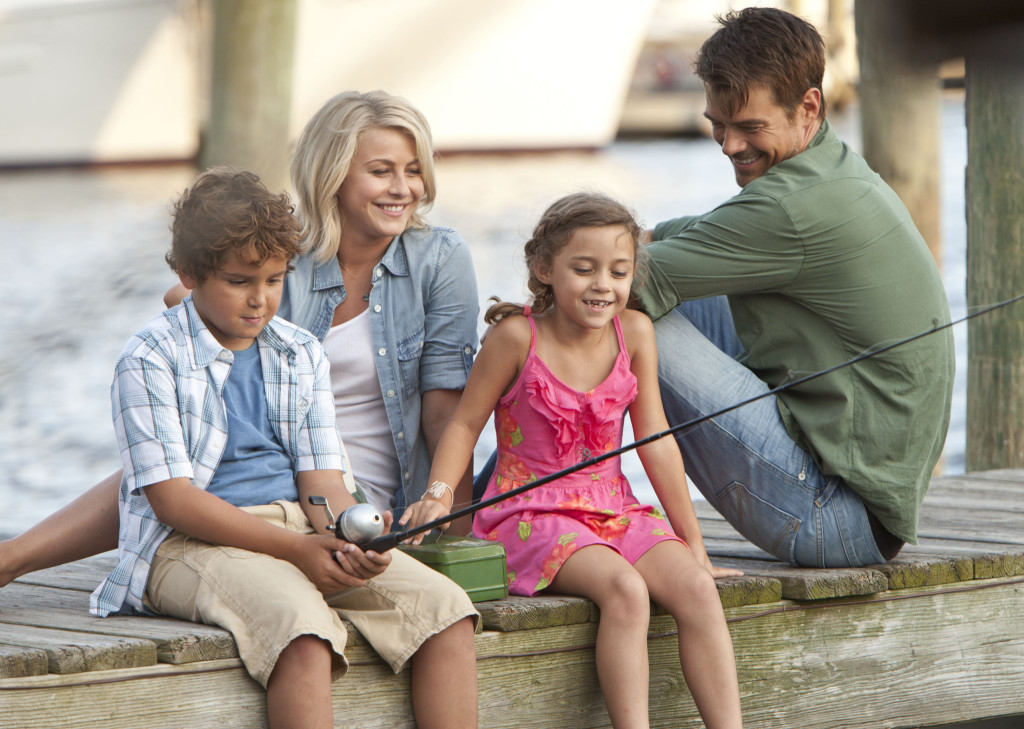 Julianne:  "My term for him is like a sexy goofball because he's literally one of the hottest guys ever.  But, my sisters, they're like, "Oh, how was it and, we're still girls, we're still human."  It was great!
He's amazing and super cool.  Who he is with those kids, that's exactly who he is in real life.  He was really nervous about coming in and not having specific lines.  He would call me or call Lasse and talk about the next day.   And Lasse's like, oh, just wing it.  And we're like, what does that mean?
I think this is one of his best movies for me because there's so much to relate to.  And you kind of see past the outside looks and the handsome charm because you see the inside, and that's what makes him more beautiful."
MY THOUGHTS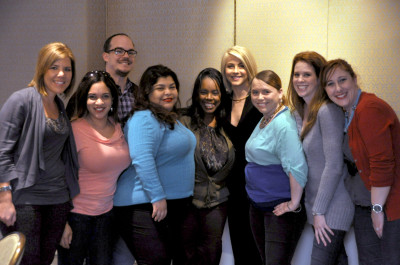 Safe Haven will be coming to theaters on February 14th and it is definitely a movie you won't want to miss.  I really, really enjoyed the movie and it was so much fun to talk with Julianne Hough.  I can't wait to see what she does next!
ABOUT SAFE HAVEN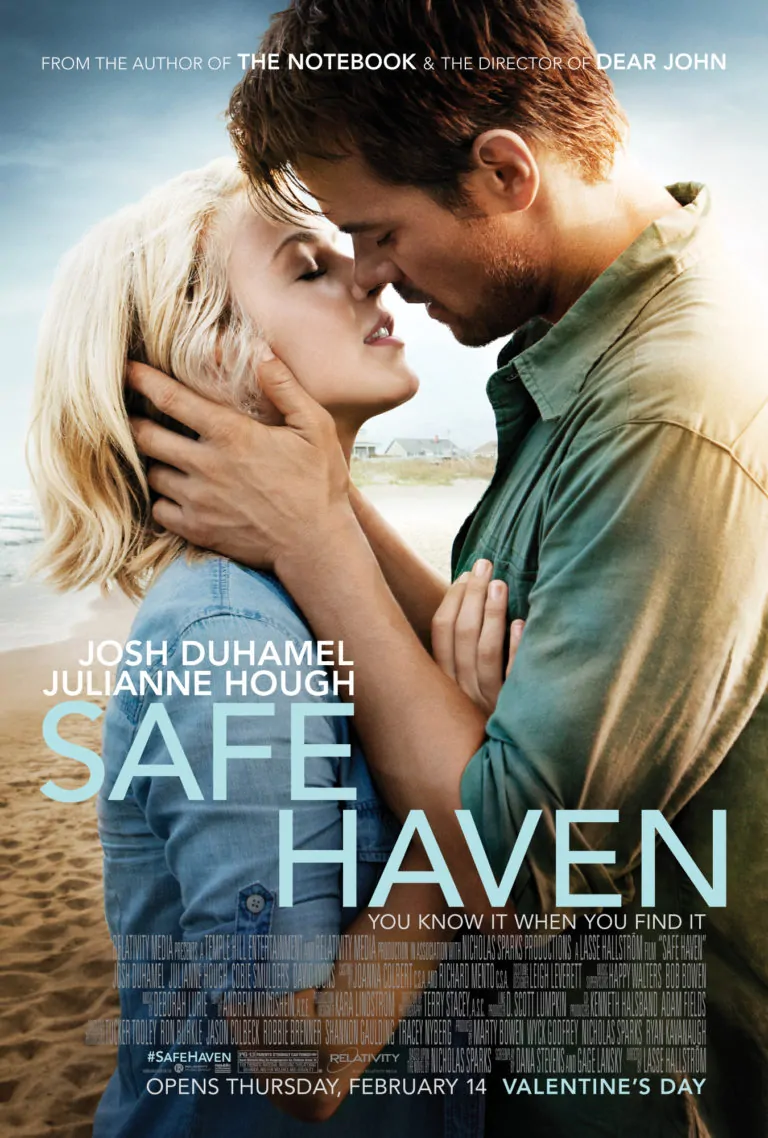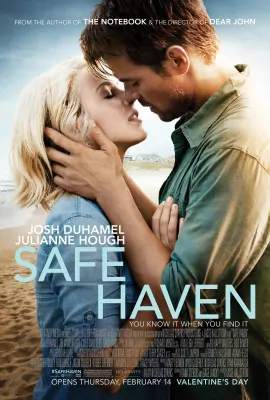 An affirming and suspenseful story about a young woman's struggle to love again, Safe Haven is based on the novel from Nicholas Sparks, the best-selling author behind the hit films The Notebook and Dear John.  When a mysterious young woman arrives in a small North Carolina town, her reluctance to join the tight knit community raises questions about her past.  Slowly, she begins putting down roots, and gains the courage to start a relationship with Alex, a widowed store owner with two young children.  But dark secrets intrude on her new life with such terror that she is forced to have rediscover the meaning of sacrifice and rely on the power of love in this deeply moving romantic thriller.
Like Safe Haven on Facebook
Follow @SafeHavenMovie on Twitter #SafeHaven
Watch the trailer & clips on YouTube
Find Safe Haven on Instagram and Pinterest
No travel, accommodations, or compensation was received for this post. All opinions expressed in this post are 100% mine.
Contributor Shannon Gosney is the author of The Mommy-Files, a national blog with a loyal following. With 3 active boys and and an active life, she loves living on the Central Coast near San Luis Obispo, California. A full-time Social Media and Professional Blogger, Shannon also serves as a National Brand Ambassador for many well-known companies. Her blog focuses on motherhood, family fun activities, traveling and recipes while providing, professional opinions, product, performance, restaurant, and various business reviews.  You can also find her online on Twitter, Facebook, Google+, Instagram, and Pinterest.