This post may contain affiliate links. Read my disclosure policy here.
My family has been sick all week and we were starting to go a little stir crazy. The other day, my husband suggested we get out of the house and go wander around a huge mall nearby. A chance to go out in the real world, have an ice cream and test out the Evenflo JourneyLite™ Embrace™ Travel System? Yes, please!
The stroller: easy, breezy, with great features
Our other stroller is a jogging stroller, and my husband was a bit skeptical about the travel system. I set it up with some help from my four-year-old, who offered to do it for me since clearly I wouldn't know how. He practically did it on his own, too. Putting this stroller together is a breeze.
We took it for a spin around the kitchen, and when my husband came over to try it out the first thing he commented on was that it was tall enough for him. Most of the strollers that don't adjust are too short for both of us, so that was a huge win.
My first observation was that it handles really nicely. I can steer it with one hand, and it has that desirable turn-on-a-dime quality. But to me the mall was the real test. I'm constantly crashing into displays with our other stroller so I was hopeful this one would do better.
The verdict: it totally did. It was really easy to maneuver through even crowded stores. The stroller also has a full parent console with a cup holder, covered storage and headphone cord access, and the full-sized basket underneath is great too.
Other features I like on this stroller:
It's light, and doesn't take up much space in the car.
It's easy to fold with one hand.
It stands up on its own when folded (so you don't have to bend down to pick it up off the floor).
It has a deep child's tray with two cup holders, and the whole tray pivots so you can get your child in and out of the seat easily.
The car seat: lightweight, compact and cute!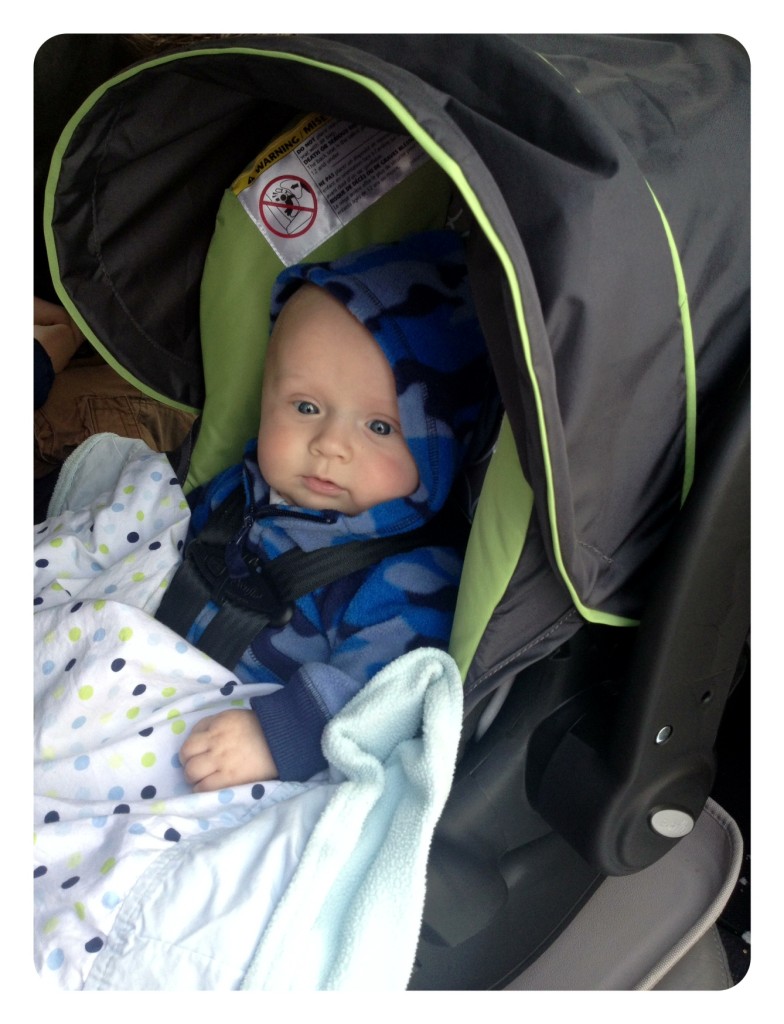 The Embrace™ infant car seat scored some major points with me right away – it's really easy to get baby into, it rocks nicely (a feature every parent will appreciate), and it fits really well in my car. Even in my SUV our other car seat is a tight fit both in height (when the handle is up) and length. This one just popped right in.
As well, the Embrace™ is noticeably lighter than our other car seat and really easy to carry. And I really like the rings design in classic green.
I was sent an Evenflo JourneyLite™ Travel System to review and was compensated for my time, but all opinions are my own.