This post may contain affiliate links. Read my disclosure policy here.
Are you sick and tired of carrying a bag full of toiletries with you while traveling or on-the-go?
Imagine a toothbrush that comes with its own toothpaste and floss… well there is such an invention!
The UltiBrush eliminates the need to carry a bunch of toiletries around because it is an all-in-one toothbrush for those on-the-go. Whether you're at the office, flying across country or backpacking across town, the on-the-go UltiBrush comes complete with toothpaste, floss, mirror and a protective cap so you have all you need in one convenient brush.
Simply press a button on the brush, and the toothpaste is distributed through the bristles of the brush. Imagine that!
The inventors of UltiBrush have been perfecting this idea for the past 20 years and are finally bringing the product to market. They have taken TSA regulations into consideration, making sure the amount of toothpaste in the brush is travel-friendly.
No more squeezing messy tubes. Complete with toothpaste, you can push the button as many times as your heart desires. Pop the lid and floss is at your fingertips. The UltiBrush cap is designed with two slits in the cap to help the brush dry through ventilation.  Turn the cap upside down and cover the slits with your fingers and it's an instant rinse cup!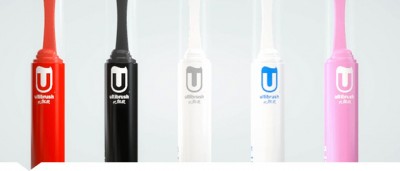 The UltiBrush is good for about 40 uses, and sells for just $12. The American Dental Association recommends swapping out your old toothbrush for a new one every few months and the UltiBrush was designed to adhere to these guidelines.
The UltiBrush is currently running a crowdfunding campaign and using startup marketing on Kickstarter in order to raise funds necessary to manufacture the product.
To learn more about the UltiBrush, visit the project's Kickstarter campaign page here: http://bit.ly/UltiPR where you will find fun rewards in exchange for supporting the UltiBrush.
This post is part of a promotional campaign with Utibrush. All opinions listed are our own.