This post may contain affiliate links. Read my disclosure policy here.
In our fast paced world with so many responsibilities, commitments and  distractions vying for our time and attention, it may seem like there is barely  time for busy parents to connect with their busy kids. Spending quality time  together as a family does not happen by accident, but rather needs to be  intentional or often it simply doesn't happen.
Spring break offers families just  the opportunity they need to slow down, reconnect and enjoy time together. Here are some ideas for a family friendly spring break the entire family can enjoy.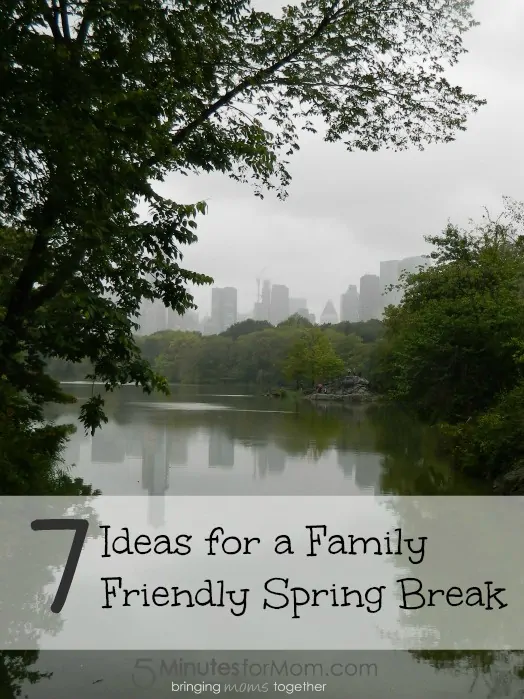 1. Go camping.
If you want an adventure and are looking for an experience that your family will talk about for years, go on a camping trip. From rain storms, to pesky  critters, to noisy neighbors, camping will leave your family with something to  talk about and the best part? After a couple years, your less than desirable camping moments develop into stories with a life of their own!
2. Book a stay at an indoor waterpark resort.
If camping is not your cup of tea, maybe you'd prefer to book a stay at an  indoor waterpark resort. In addition to the waterpark, many resorts also offer  kids activities like story time, crafts and game rooms adding to the total  experience.
3. Visit a major metropolitan city.
When I think of major metropolitan cities, Dallas, Chicago, Atlanta,  Washington D.C., Los Angeles, and New York City come to mind. Each city boasts a  vast variety of educational, cultural and plain fun touristy attractions!
4. Go to the Mall of America.
Any mall may be considered a perfect destination for teenagers who love to  shop, but with a seven acre theme park, aquarium and LEGO® store, you'll find the Mall of America has attractions that will appeal to the entire family.
5. Take a road trip.
Pack a bag, grab some snacks, fuel up your car and set off on a road trip  that you'll never forget. Drive along a popular route like the Mile High Highway, Pacific Coast Highway, Lincoln Highway, Extraterrestrial Highway, or Route 66, stopping for spectacular views, roadside attractions or whatever grabs your fancy.

6. Volunteer as a family.
Spending your time giving of yourself to help others is a very rewarding experience. To be able to do the same as a family offers immeasurable rewards.  Not only does volunteering together strengthen the family unit, it also opens  communication channels, teaches values and builds character.

7. Try something new.
Do something your family has never done before. Eat at a new restaurant, visit a new attraction or try a new activity as a family. You could pan for  gold, hunt for diamonds, zip line, kayak, snorkel, ski or go for an airboat ride. The possibilities are endless!
What spring break idea from the list do you think would appeal to  your family?