This post may contain affiliate links. Read my disclosure policy here.
Can I be honest with you?
I am not the wife I want to be.
Being a loving, empathetic, forgiving wife is incredibly hard for me. Mothering comes naturally to me. Yes, I lose my temper, I loathe housework and I have never even made a batch of playdough, but loving and forgiving my children is easy. It is what I do best.
Offering that same grace to my husband, however, is much more difficult. I seem to hold him to a higher standard than I do for the rest of the world.
It is maddening! I am huge giver of grace. I preach it baby! I love to offer people mercy. But when it comes to my husband, my perfectionism takes over, and I often become a critical, nagging wife.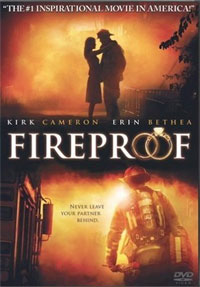 So, when I watched Fireproof and interviewed Kirk Cameron about his starring role in this beautiful movie about saving a marriage, I was beyond inspired. I was challenged. I wanted to learn more.
Fortunately, I can delve deeper into the issues and lessons from Fireproof through the teaching materials that couples can use to transform their own marriages, such as The Love Dare book and The Love Dare Bible Study.

I got the opportunity to interview Alex Kendrick, co-author of the #1 New York Times Bestseller, The Love Dare, and director and co-writer of Sherwood Picture's hit film Fireproof, which stars Kirk Cameron.
Talking with Alex, I could sense his passion for the healing message of Christ. It was one of most inspiring interviews I have ever done. You can listen to our recorded podcast by clicking on the link at the bottom of this post.
I can't even begin to communicate to you how strongly I feel about Fireproof and the available Love Dare resources — they can help heal and save marriages!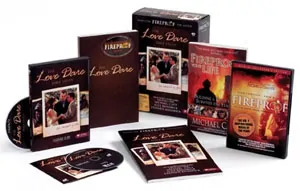 LifeWay has developed The Love Dare Bible Study and The Love Dare Bible Study – Leader Kit to help couples enrich their marriages.
And now, Alex and Stephan Kendrick's newest book, The Love Dare Day by Day: A Year of Devotions for Couples, which Alex tells me about in our interview, is available!
If you want to infuse your marriage with forgiveness and passion, I cannot more highly recommend Fireproof and The Love Dare materials.

I hope you are as inspired as I am to take the message of Fireproof to heart and allow God to transform your marriage into a union of grace and unconditional love.
Please click on the arrow below to listen to the inspiring podcast with Alex Kendrick.
[display_podcast]
LifeWay provided a review copy of The Love Dare Bible Study Leaders Kit.