This post may contain affiliate links. Read my disclosure policy here.
I am a deal seeker junkie. I will be the first to admit it. In fact, I probably aggravate my friends to death, because they are always telling me about a "great deal" they got on a purchase and my first response is usually — Did you use any coupons with that? If there answer is no, I kindly show them my favorite sites on the Internet that help them save even more money.
My newest favorite is CoupFlip.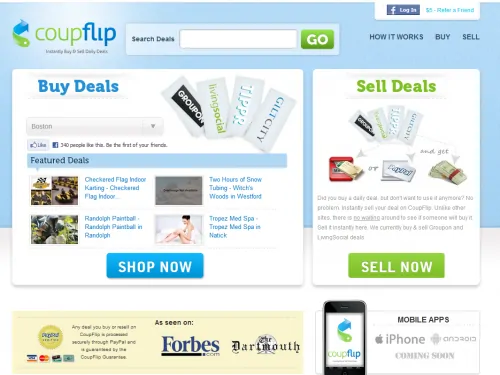 CoupFlip is the leading marketplace to buy and resell daily deals, such as Groupon and LivingSocial. I am always purchasing movie tickets for $2 per person, or dinner deals at my favorite local restaurants. When I can't use them though, CoupFlip comes to my rescue and allows me to sell those deals on their site so that I don't lose any money and I can pass the savings on to someone else.
Check out this video where CoupFlip was recently interviewed on CBS NY
Deals Available Right Now
Here are a few deals that I found just from browsing the site that really sounded interesting to me.
The really awesome thing about CoupFlip is you do not have to wait until a certain number of people purchase the deal to get that price. It's automatically yours when you purchase.
Check out CoupFlip today and find some really great deals in your area or for a place you will be visiting soon.
This is part of a promotional campaign with coupflip. All opinions listed are our own.