This post may contain affiliate links. Read my disclosure policy here.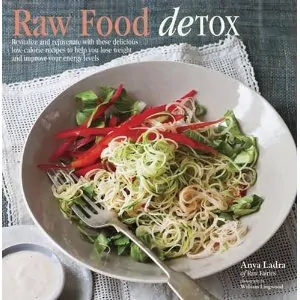 With the new year, there are all sorts of resolutions, so many of which center around eating better.  I'm in that camp, not surprisingly.  I know what I need to do.  My biggest issue is that I need to eat more fruits and veggies and find ways that are fun to make them.  The Raw Food Detox: Revitalize and Rejuvenate With These Delicious Low-calorie Recipes to Help You Lose Weight and Improve Your Energy Levels, by Anya Ladra of Raw Fairies in the UK, is a great start to this.
Raw Food Detox is a cookbook, but it's more than that.  I'm fascinated by the concept of raw foods because the less processed the better in my world.  But I'm new to it.  And it's intimidating.  Anya Ladra has put together a great introductory textbook that shows you how to go through a detox if you so choose – with three variations – that includes what to eat and when.  Given that much of it requires eating every two or so hours, that part isn't for me.  But I'll take what I can.
I appreciate that the introduction of the book includes a listing of all the "powerhouse" ingredients that are used throughout the book and their benefits.  She also includes an index in the back of the book with suggestions on where to find some of the more unusual ingredients.  One thing I appreciate is that while doing a raw diet can certainly assist in weight loss, that isn't the focus of the book.  It's far more on the increase in energy and promotion of better sleep patterns and improvements in skin quality.  I can get behind that.
The book contains a ton of recipes for raw foods that I would likely never have thought of on my own.  I strongly appreciate that below each recipe is a note of what equipment is needed.  While I have a spiralizer (which is generally optional) and a blender, I don't have a dehydrator, and I'm not likely to go buy one at the moment.  I know which recipes I can and cannot make with a quick skim.
And a lot of the recipes are fascinating.  I would never have thought to make a mango smoother with turmeric, but it sounds delicious.  The full color photos of each recipe provide a great visual and also help me decide if it is a dish I want to prepare or not.  The sweet potato and courgette (zucchini) salad with arame and bean sprouts is one I'll be adding to my regular repertoire, although I'll buy my sprouts rather than sprouting the beans myself.  I made the avocado and tomato salad with red pepper chili dressing, and it's amazing.  It isn't just salads though.  There are appetizers and main dishes and even desserts.  The brownie squares  are going on my list of items to make.
Personally, I love that I have a cookbook filled with items that I know are dairy free, so Little Miss can eat them without concern.  They are also gluten free, but many rely on nuts – because you need protein – so if you have a nut allergy in the house, this will be limiting, though there are still plenty of recipes that don't include nuts.
You can enter to win a copy for yourself! Just leave a comment below, by following the instructions in the rafflecopter.
In the interest of disclosure, Michelle received a copy of the book for review.  All opinions remain her own.
Written by 5 Minutes for Books contributor Michelle who loves spending time in the kitchen and is always striving to find a healthier way for herself and her two children.  Her husband is on his own.  See what she's been cooking up on her blog Honest & Truly! or follow along on Twitter where she is also @HonestAndTruly.