This post may contain affiliate links. Read my disclosure policy here.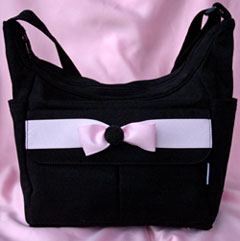 I absolutely LUV my new bag!
Ever since my baby dreams came true with my precious baby girl Julia, I've had so much fun picking out pretty pink clothes and baby essentials for her.
But when I saw this stylish Button and Bows Diaper Bag from a new mom-owned store called Luv My Bag, I figured now Mommy can have a touch of that fun pretty in pink.
I luv the sleek, subtle style that blends in with my dressy or casual outfits, and the pink ribbon accent adds a touch of feminine fun.
I chose the mid-size Hobo style bag. It's perfect for a purse/mini-diaper-bag.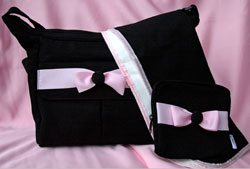 I can throw in my own essentials (keys, wallet, makeup) as well as Julia's must-haves (diapers, wipes, sippy cup) and not feel like I'm carrying around a big bulky diaper bag. And it has an adjustable strap, so I can throw it over my shoulder or wear it across my body.
And of course, this gorgeous and functional diaper bag was created by a woman who knows the needs of a mom. She's a mother of four! (In fact, her fourth baby just arrived days ago.) She's used her experience to design this brand new line of stylish bags.
To accomodate the varying mommy needs, her signature Buttons and Bows line has three different sizes – the Hobo Diaper Bag, the Boxy Diaper Bag and the Kitchen Sink Tote.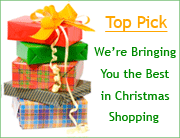 They're all impeccably made in heavy weight canvas and come with matching a wipe-able changing pad (22 1/2 x 14) and a matching Mommy cosmetic bag (7″w x 6″h).
These mom-designed bags definitely make our list of Top Picks for Christmas 2006.