This post may contain affiliate links. Read my disclosure policy here.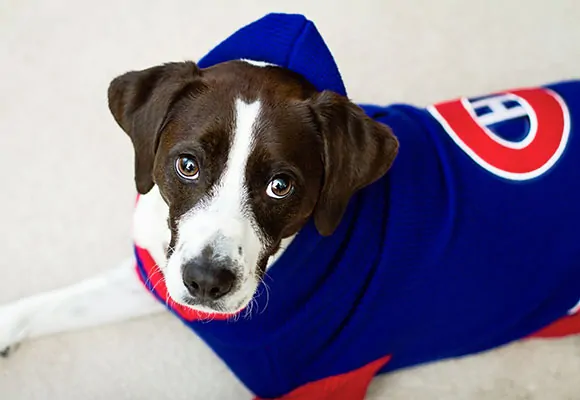 Our dog AJ all dressed up in his Christmas Gift — a Montreal Canadiens dog sweater
My almost eleven year old son, Jackson, bought this Habs sweater for our three year old Beagle mix dog, AJ. The best part? AJ didn't even try to get it off. I think he liked getting dressed up for Christmas.
LINK UP in our Christmas Photo 2012 Link Up
Have you posted your Christmas photos yet? Don't miss our Christmas Photo 2012 Link Up — click over and add the URL to your Christmas photo posts.
What is Your Weekly Photo?
Mom Bloggers (and Dad Bloggers too!) post a photo on your site, link up and find others… Wordless Wednesday is tons of fun. (And I know it says "wordless" but I usually just can't bear to not write anything! If I had created it, I probably would have named it something different! LOL So feel to link up your word-full or word-less Wednesday photos!)
Leave the URL to your photo (clearly mine are never truly "wordless") and then visit others!
Here is a fun thumbnail linky:



And here is a basic link:
Thanks to Uisce for creating Wordless Wednesday.

Written by Janice, co-founder of this Mom Blog 5 Minutes for Mom
If you like this post, we would love it if you gave it a Stumble, Tweet, Pin, or Facebook Like. Thanks so much! We really appreciate your support of 5 Minutes for Mom.