This post may contain affiliate links. Read my disclosure policy here.
Holiday Spending Survey
In a recent survey on holiday spending, Women & Co and Real Simple discovered that moms spend at least $100 on each child, with as much as $1,000 total going to holiday expenses.
See full survey infographic here: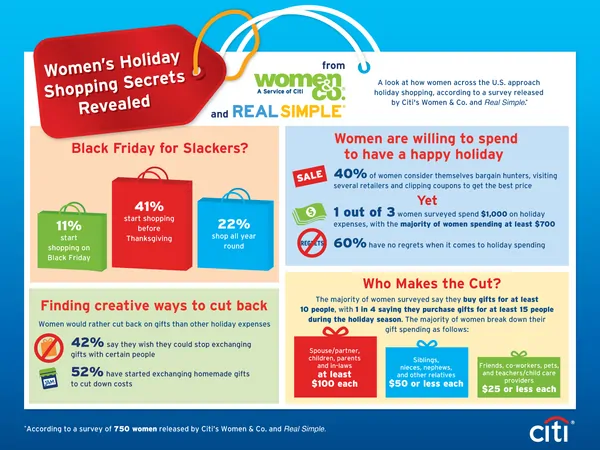 When we mentioned this to our readers,
the responses were diverse
. Some felt that $100 was far to low an average, especially for older children who tend to get more sophisticated gifts (like technology). Some readers admitted to spending $100 or even less per child, asserting that for them, the holidays weren't about the presents.
Whatever resources an individual has for holiday spending, Women & Co and Real Simple also want to encourage readers to find ways to give back during the holidays, to friends, family, the community, and those in need.
Give of Yourself During the Holidays
No matter what your holiday budget is, or where you choose to place the focus during the holidays, everyone is in a position to give. What are some ways you and your family might give of yourselves during the holidays?
Search national volunteer databases for opportunities. Websites like Volunteers of America and VolunteerMatch can help you find local services in need of volunteers. Other large networks with volunteer opportunities include organizations like United Way and Salvation Army.
Search for organizations based on your interests. Some families have certain types of charities that are closer to their hearts. Whether your concern is food banks or women's shelters or helping the elderly, your family can decide together where to dedicate volunteer efforts, then use online directories or a local search to find an organization in need.
Locally sponsored holiday drives. Oftentimes community groups – like the fire department, library, school, radio or television station – will put together food or toy drives for families in need. Gathering items to donate can be time well spent for your family, and will benefit so many others in the process.
Contact specific known services in your community. If you know of a specific service in your community, contact them directly or search their website to find out their current holiday volunteer needs. Where I live we have the Portland Rescue Mission, and although their physical, on-site volunteer needs are met for Christmas, they have a list of other ways that people can help during the holidays (ie: care kits, needed donation items, online gift registry). Just reaching out and asking "How can I help?" is a great way to show your community – and your kids – that you care.
How Does Your Family Give Back During the Holidays?
Not all opportunities for giving involve partnering with larger organizations. Sometimes it can be as simple as checking in on your neighbors or delivering cards and treats to friends. We would love to know: How does your family give back during the holidays?
Disclosure: This post was inspired by a conversation with Women & Co and Real Simple on holiday spending and giving. To learn more about Women & Co, check out www.womenandco.com, sign-up for their weekly newsletter, and follow them on Twitter to get all our their personal finance content and tips on a regular basis.