This post may contain affiliate links. Read my disclosure policy here.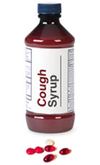 It is hard to imagine a simple bottle of cough syrup destroying a young person's life. But that is exactly what is happening to many young people like Shawn, who become addicted to the drug dextromethorphan – an ingredient found in some cough medicine. (You can hear Shawn's story at www.dxmstories.com.)
In fact, according to the Partnership for a Drug Free America, one out of ten teens in America has abused cough medicine to get high. Looking for an easy high, these young people are reaching for cough syrup, while risking terrible side effects, addiction and even death.
Recently Anna Matis, a reader who represents the Consumer Healthcare Products Association emailed us to let us know about the CHPA's campaign to raise public awareness about this growing problem of kids abusing dextromethorphan.
The CHPA and the Partnership for a Drug-Free America have developed two websites as educational resources, www.dxmstories.com for teens and www.drugfree.org/Parent/Resources/Cough_Medicine_Abuse for parents.
We found these sites helpful and thought we should pass them on to you. It is frightening to know that many kids are risking their lives to get high on something so easily purchased. If you are interested in learning more, please check out these sites and find out how parents can help prevent cough medicine abuse.